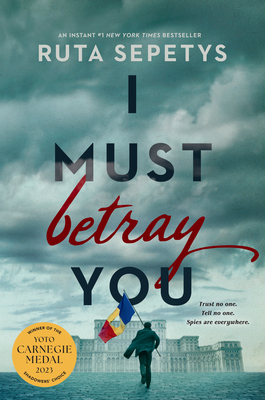 I Must Betray You
Publication Date:
February 1st, 2022
Publisher:
Philomel Books
Usually Ships in 1 to 5 Days
When I pick up a Ruta Sepetys novel, I know that I will have my heart broken and learn from history. Romania in 1989 is a fascinating, hidden history that is brought to light in this insanely propulsive story. It will grab you and not let go.
March/April 2022 Kids Indie Next List
Description
#1 New York Times Bestseller and winner of the Carnegie Medal!
A gut-wrenching, startling historical thriller about communist Romania and the citizen spy network that devastated a nation, from the #1 New York Times bestselling, award-winning author of Salt to the Sea and Between Shades of Gray.
Romania, 1989. Communist regimes are crumbling across Europe. Seventeen-year-old Cristian Florescu dreams of becoming a writer, but Romanians aren't free to dream; they are bound by rules and force.
Amidst the tyrannical dictatorship of Nicolae Ceaușescu in a country governed by isolation and fear, Cristian is blackmailed by the secret police to become an informer. He's left with only two choices: betray everyone and everything he loves—or use his position to creatively undermine the most notoriously evil dictator in Eastern Europe.
Cristian risks everything to unmask the truth behind the regime, give voice to fellow Romanians, and expose to the world what is happening in his country. He eagerly joins the revolution to fight for change when the time arrives. But what is the cost of freedom?
Master storyteller Ruta Sepetys is back with a historical thriller that examines the little-known history of a nation defined by silence, pain, and the unwavering conviction of the human spirit.
Praise for I Must Betray You:
"As educational as it is thrilling...[T]he power of I Must Betray You [is] it doesn't just describe the destabilizing effects of being spied on; it will make you experience them too." –New York Times Book Review
"A historical heart-pounder…Ms. Sepetys, across her body of work, has become a tribune of the unsung historical moment and a humane voice of moral clarity." –The Wall Street Journal
* "Sepetys brilliantly blends a staggering amount of research with heart, craft, and insight in a way very few writers can. Compulsively readable and brilliant." –Kirkus Reviews, starred review
* "Sepetys once again masterfully portrays a dark, forgotten corner of history." –Booklist, starred review
* "Sepetys's latest book maintains the caliber readers have come to expect from an author whose focus on hidden histories has made her a YA powerhouse of historical ­fiction…Sepetys is a formidable writer, and her stories declare the need to write about global issues of social injustice. For that reason and her attention to detail, this is a must-read." –School Library Journal, starred review
* "Cristian's tense first-person narrative foregrounds stark historical realities, unflinchingly confronting deprivations and cruelty while balancing them with perseverance and hope as Romania hurtles toward political change." –Publishers Weekly, starred review
"Sepetys keeps readers riveted to this vivid, heartbreaking and compelling novel, locked into every meticulously researched detail. I Must Betray You demands a full investment from its audience--through poetic writing, sympathetic characters, revolutionary plot and pacing, it grips the heart and soul and leaves one breathless." –Shelf Awareness, starred review
"A master class in pacing and atmosphere." –BookPage
Praise for I Must Betray You
Praise for I Must Betray You:
Winner of the Josette Frank Award for Fiction ♦ An NPR Best Book of the Year ♦ An Amazon Best Book of the Year ♦ A Publishers Weekly Best Book of the Year ♦ A Kirkus Reviews Best Book of the Year ♦ A School Library Journal Best Book of the Year ♦ A Christian Science Monitor Best Book of the Year ♦ A New York Public Library Best Book of the Year ♦ A Bank Street College of Education Best Book of the Year ♦ A YALSA Top Ten Best Fiction for Young Adults Pick ♦ A Goodreads Choice Award Nominee 
"As educational as it is thrilling...[T]he power of I Must Betray You [is] it doesn't just describe the destabilizing effects of being spied on; it will make you experience them too." –New York Times Book Review
★ "Sepetys brilliantly blends a staggering amount of research with heart, craft, and insight in a way very few writers can. Compulsively readable and brilliant." –Kirkus Reviews, starred review
★ "Sepetys once again masterfully portrays a dark, forgotten corner of history." –Booklist, starred review
 
★ "Sepetys's latest book maintains the caliber readers have come to expect from an author whose focus on hidden histories has made her a YA powerhouse of historical ­fiction…Sepetys is a formidable writer, and her stories declare the need to write about global issues of social injustice. For that reason and her attention to detail, this is a must-read." –School Library Journal, starred review

★ "Cristian's tense first-person narrative foregrounds stark historical realities, unflinchingly confronting deprivations and cruelty while balancing them with perseverance and hope as Romania hurtles toward political change." –Publishers Weekly, starred review
"A master class in pacing and atmosphere." –BookPage