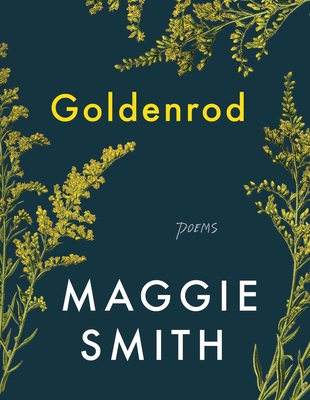 Goldenrod: Poems
Publication Date:
July 27th, 2021
Publisher:
Atria/One Signal Publishers
Usually Ships in 1 to 5 Days
Maggie Smith is the kind of magician who can make a poem breathe and sing. Goldenrod leaves the reader feeling as though the poet has gently struck their heart with a mallet, sending vibrations echoing throughout them for a long time.
August 2021 Indie Next List
Description
NATIONAL BESTSELLER * NAMED A BEST BOOK OF THE YEAR BY NPR
??"To read Maggie Smith is to embrace the achingly precious beauty of the present moment." —Time
"A captivating collection from a wise, accessible poet." —People
From the award-winning poet and bestselling author of You Could Make This Place Beautiful, Keep Moving, and Good Bones, a stunning poetry collection that celebrates the beauty and messiness of life.
With her breakout bestseller Keep Moving, Maggie Smith captured the nation with her "meditations on kindness and hope" (NPR). Now, with Goldenrod, the award-winning poet returns with a powerful collection of poems that look at parenthood, solitude, love, and memory. Pulling objects from everyday life—a hallway mirror, a rock found in her son's pocket, a field of goldenrods at the side of the road—she reveals the magic of the present moment. Only Maggie Smith could turn an autocorrect mistake into a line of poetry, musing that her phone "doesn't observe / the high holidays, autocorrecting / shana tova to shaman tobacco, / Rosh Hashanah to rose has hands."​
Slate called Smith's "superpower as a writer" her "ability to find the perfect concrete metaphor for inchoate human emotions and explore it with empathy and honesty." The poems in Goldenrod celebrate the contours of daily life, explore and delight in the space between thought and experience, and remind us that we decide what is beautiful.
Praise for Goldenrod: Poems
"This empathetic, wise, and honest collection is brimming with poems full of heart and feeling."
— Publisher's Weekly (starred review)
"The lyrical and touching poems in Goldenrod by Maggie Smith are sure to capture your heart. Smith has a way of turning the mundane into the profound, and in the process, she'll astound you with her brilliant insights into modern life."
—POPSUGAR
"Compared with past works, the language in Goldenrod is lean and conversational, Smith wielding her editor's pen with surgical skill, excising syllabic flotsam and exposing her inner voice more clearly than ever."
—Columbus Alive
"Maggie Smith is that rare poet who can inspire you, break your heart, and make you stop astonished at the planet around you—all in the same poem, often in the same moment. The wisdom of Goldenrod is more than hard-earned, it is a gift."
—Ilya Kaminsky, author of Deaf Republic
"Goldenrod brims with fervent love for this gorgeous, wounded world. These are poems you want to rush into, poems you will return to more slowly again and again. They are like the stones she describes: together/ they dazzle with fire."
—Ellen Bass, author of Indigo
"The poems in Goldenrod alternate between gratitude and anger, bafflement and forgiveness, but more than anything else, they radiate love. To read Maggie Smith's poetry is to realize we aren't alone."
—Rhett Miller, Singer/Songwriter, The Old 97's
"Goldenrod is lush and intimate, full of joy and sorrow, fire and field. With wonder and poignancy, Maggie Smith navigates a reconstitution of self as she grieves what is lost. Her way of seeing is positively alchemical."
—Marcus Wicker, author of Silencer
"With keen perception Maggie Smith charts the world like a cartographer—all the greens and blues and yellows are there, but so are all the troughs and valleys, the darkest wonders. Smith holds our hands and leads us into and through all of the grief, beauty, and alchemy of the world."
—Victoria Chang, author of Obit
"The poems in Goldenrod are carried by that brave and devastating intersection of grief and gratitude. Smith's words reach our hearts, speaking on behalf of the delicious "good dark" that breaks before the dawn."
—Tiana Clark, author of I Can't Talk About The Trees Without The Blood
"In Goldenrod Maggie Smith aptly writes, 'America, we have taken children/ from their mothers. We have separated/ words from their meanings.' Though no injustice escapes her attention, nor any personal hurt, Smith's daring empathy and her knowing grasp of survival deliver us to a place where pain and beauty hold hands together in grace and transcendence."
—Barbara Ras, author of The Blues of Heaven