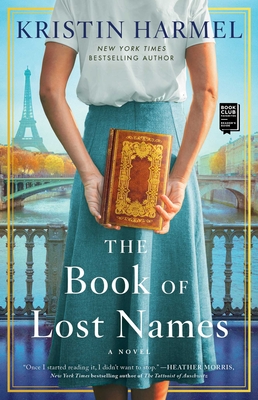 The Book of Lost Names
Publication Date:
May 25th, 2021
Usually Ships in 1 to 5 Days
Description
"A fascinating, heartrending page-turner that, like the real-life forgers who inspired the novel, should never be forgotten." —Kristina McMorris, New York Times bestselling author of Sold on a Monday
Inspired by an astonishing true story from World War II, a young woman with a talent for forgery helps hundreds of Jewish children flee the Nazis in this "sweeping and magnificent" (Fiona Davis, bestselling author of The Lions of Fifth Avenue) historical novel from the #1 international bestselling author of The Winemaker's Wife.
Eva Traube Abrams, a semi-retired librarian in Florida, is shelving books when her eyes lock on a photograph in the New York Times. She freezes; it's an image of a book she hasn't seen in more than sixty years—a book she recognizes as The Book of Lost Names.
The accompanying article discusses the looting of libraries by the Nazis across Europe during World War II—an experience Eva remembers well—and the search to reunite people with the texts taken from them so long ago. The book in the photograph, an eighteenth-century religious text thought to have been taken from France in the waning days of the war, is one of the most fascinating cases. Now housed in Berlin's Zentral- und Landesbibliothek library, it appears to contain some sort of code, but researchers don't know where it came from—or what the code means. Only Eva holds the answer, but does she have the strength to revisit old memories?
As a graduate student in 1942, Eva was forced to flee Paris and find refuge in a small mountain town in the Free Zone, where she began forging identity documents for Jewish children fleeing to neutral Switzerland. But erasing people comes with a price, and along with a mysterious, handsome forger named Rémy, Eva decides she must find a way to preserve the real names of the children who are too young to remember who they really are. The records they keep in The Book of Lost Names will become even more vital when the resistance cell they work for is betrayed and Rémy disappears.
An engaging and evocative novel reminiscent of The Lost Girls of Paris and The Alice Network, The Book of Lost Names is a testament to the resilience of the human spirit and the power of bravery and love in the face of evil.
Praise for The Book of Lost Names
"You'll want to add [The Book of Lost Names] to your #TBR list." 
— –Parade Magazine
"If you love historical fiction about World War II, you will enjoy this story of Eva, a young woman who during the war helps Jewish kids escape France by forging documents."
— –St. Louis Post-Dispatch
"With meticulous research and an assured hand, Kristin Harmel once again spotlights French Resistance figures of the Second World War, unique heroes whose bravery and immeasurable sacrifices are too often lost to history. THE BOOK OF LOST NAMES is a fascinating, heartrending page-turner that, like the real-life forgers who inspired the novel, should never be forgotten. A riveting historical tale that I devoured in a single sitting."
— Kristina McMorris, New York Times bestselling author of Sold on a Monday
"Harmel brilliantly imagines the life of a young Polish-French Jewish woman during the depths of WWII...Harmel movingly illustrates Eva's courage to risk her own life for others, and all of the characters are portrayed with realistic compassion. This thoughtful work will touch readers with its testament to the endurance of hope."
— Publishers Weekly (starred review)
"Not since "The Nightingale" have I finished a book and been so choked with emotion. Harmel was inspired by the true story of French citizens who fought against evil during WWII with courage and conviction. She shines a brilliant light on those who had their identities erased and lives destroyed, on a country and its people torn apart, and young women like Eva, who risked their lives with everyday acts of epic heroism. Sweeping and magnificent."
 
— Fiona Davis, national bestselling author of The Lions of Fifth Avenue
"A heart-stopping tale of survival and heroism centered on a female forger who risks everything to help Jewish children escape Nazi-occupied France."
— People (20 Best Books to Read this Summer)
"Harmel's previous historical novels, including The Winemaker's Wife (2019), illuminate heartbreakingly real but forgotten stories from World War II, blended with a dash of suspense and romance, and this does the same. Recommend to fans of romantic historical fiction, including All the Ways We Said Goodbye (2020)."
— Booklist
"A celebration of the power of books to give hope and healing, this lovely tale offers hope in troubled times."
— –The Toronto Star
"With exceptional skill, Kristin Harmel constructs The Winemaker's Wife between the past and the present, giving equal weight and importance to both, all the while weaving a tale full of secrets and betrayals that puts to the test mankind's strength, fragility and vileness. Once you start reading this moving novel, you will not be able to put it down until you reach the last page." 
— Armando Lucas Correa, bestselling author of The German Girl, on THE WINEMAKER'S WIFE
"Harmel's engrossing latest reminds us that love, like resistance, begins with courage."
— People on THE ROOM ON RUE AMELIE
 "This book of historical fiction is also a surprising story of love, courage, and the resiliency of the human spirit....[Harmel] manages to draw her audience in, even to the point of unexpected tears at the story's end.."
— Jewish Book Council on THE ROOM ON RUE AMELIE
"Kristin Harmel writes with such insight and heart that her characters will stay with you long after you've finished her books."
 
— New York Times bestselling author Emily Giffin on THE SWEETNESS OF FORGETTING