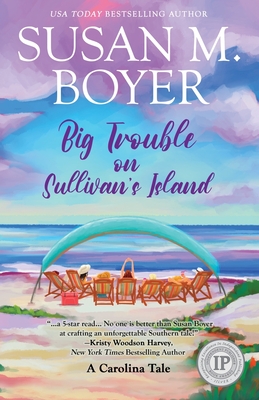 Big Trouble on Sullivan's Island: A Carolina Tale (Carolina Tales #1)
Publication Date:
April 11th, 2023
Publisher:
Stella Maris Books, LLC
Usually Ships in 1 to 5 Days
Description
From the author of the best-selling Liz Talbot Mystery Series comes a novel about family and secrets, and the lengths we'll go to in order to protect both.
Can this charming do-gooder carry the day?
Charleston, SC. Hadley Cooper has a big heart. So when the easygoing private investigator gets a request from a new friend to stake out her husband's extramarital activities, she immediately begins surveillance. And when her client is discovered dead on her kitchen floor, the Southern spitfire is certain the cheater is the culprit ... even though he has the perfect alibi: Hadley herself.
Flustered since she observed the cad four hours away in Greenville at the time of the murder, the determined PI desperately searches for clues to tie him to the crime. But when her ex-boyfriend, who happens to be the lead detective on the case, arrests a handy suspect, Hadley fears a guilty man is about to walk free.
Can this Palmetto State sleuth make an impossible connection to prevent a miscarriage of justice?
With dry wit and delightful dialogue, Susan M. Boyer delivers an eccentric, vegan gumshoe sure to appeal to any fan of Southern women's fiction. With her merry band of sassy friends, Hadley Cooper is a Lowcountry detective you won't soon forget.
Big Trouble on Sullivan's Island is the engaging first book in the Carolina Tales series. If you like strong heroines, quirky sisterhoods, and plenty of Southern charm, then you'll love Susan M. Boyer's wonderful whodunit.
Read Big Trouble on Sullivan's Island and take a trip to the lush Lowcountry today