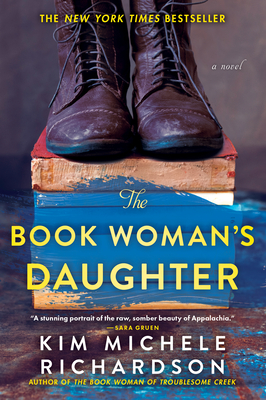 The Book Woman's Daughter: A Novel
Publication Date:
May 3rd, 2022
Publisher:
Sourcebooks Landmark
Usually Ships in 1 to 5 Days
While never overplaying the drama, Honey's story captures the struggles and discrimination women faced in the 1950s and their fight for dignity. Honoring the power of women's friendships, this rich sequel speaks to our present.
May 2022 Indie Next List
Description
THE INSTANT NEW YORK TIMES BESTSELLER!
"A powerful portrait of the courageous women who fought against ignorance, misogyny, and racial prejudice." —William Kent Krueger, New York Times bestselling author of This Tender Land and Lightning Strike
The new novel from the New York Times bestselling author of The Book Woman of Troublesome Creek!
Bestselling historical fiction author Kim Michele Richardson is back with the perfect book club read following Honey Lovett, the daughter of the beloved Troublesome book woman, who must fight for her own independence with the help of the women who guide her and the books that set her free.
In the ruggedness of the beautiful Kentucky mountains, Honey Lovett has always known that the old ways can make a hard life harder. As the daughter of the famed blue-skinned, Troublesome Creek packhorse librarian, Honey and her family have been hiding from the law all her life. But when her mother and father are imprisoned, Honey realizes she must fight to stay free, or risk being sent away for good.
Picking up her mother's old packhorse library route, Honey begins to deliver books to the remote hollers of Appalachia. Honey is looking to prove that she doesn't need anyone telling her how to survive. But the route can be treacherous, and some folks aren't as keen to let a woman pave her own way.
If Honey wants to bring the freedom books provide to the families who need it most, she's going to have to fight for her place, and along the way, learn that the extraordinary women who run the hills and hollers can make all the difference in the world.
Praise for The Book Woman's Daughter:
"In Kim Michele Richardson's beautifully and authentically rendered The Book Woman's Daughter she once again paints a stunning portrait of the raw, somber beauty of Appalachia, the strong resolve of remarkable women living in a world dominated by men, and the power of books and sisterhood to prevail in the harshest circumstances. A critical and profoundly important read for our time. Badassery womanhood at its best!"—Sara Gruen, #1 New York Times bestselling author of Water for Elephants
"Fierce, beautiful and inspirational, Kim Michele Richardson has created a powerful tale about brave extraordinary heroines who are downright haunting and unforgettable."—Abbott Kahler, New York Times bestselling author (as Karen Abbott) of The Ghosts of Eden Park
Praise for The Book Woman's Daughter: A Novel
"In Kim Michele Richardson's beautifully and authentically rendered The Book Woman's Daughter she once again paints a stunning portrait of the raw, somber beauty of Appalachia, the strong resolve of remarkable women living in a world dominated by men, and the power of books and sisterhood to prevail in the harshest circumstances. A critical and profoundly important read for our time. Badassery womanhood at its best!" — Sara Gruen, #1 New York Times bestselling author of Water for Elephants
"Steeped in an intimate knowledge of the traditions and lore of the region and written with a loving eye to the natural beauty of the landscape, The Book Woman's Daughter is a brilliant and compelling narrative - a powerful portrait of the courageous women who fought against ignorance, misogyny, and racial prejudice." — William Kent Krueger, New York Times bestselling author of This Tender Land and Lightning Strike
"A mesmerizing and beautifully rendered Appalachian tale of strong women, bravery, and resilience, told through the eyes of a new heroine reminiscent of Harper Lee's own Scout Finch." — Ron Rash, New York Times bestselling author of One Foot in Eden and Serena
"Fierce, beautiful and inspirational, Kim Michele Richardson has created a powerful tale about brave extraordinary heroines who are downright haunting and unforgettable." — Abbott Kahler, New York Times bestselling author (as Karen Abbott) of The Ghosts of Eden Park
"Kim Michele Richardson's The Book Woman's Daughter sets us deep inside Kentucky's rugged Appalachia in the early 1950s and gives us Honey Mary-Angeline Lovett, a sixteen-year-old as fierce and brave as her mama, Cussy Mary. Their world is cruel with its prejudice, and Richardson is not afraid to peel back its ugliness and take us there. But, like the best writers in not only this generation but the ones past, Richardson gifts us readers with something extraordinary, a way back." — Bren McClain, multi-award-winning author of One Good Mama Bone
"The Book Woman's Daughter combines themes of sisterhood and justice with vivid depictions of the Kentucky landscape, making it a good choice for book groups and readers of historical women's fiction." — Booklist
"Richardson excels in her descriptions of the people and places of rural Kentucky. Fans will be delighted to find Cussy's daughter is just as plucky as her mother." — Publishers Weekly
"The undeniable warmth that permeates Kim Michele Richardson's fiction is rooted in a love for her home state of Kentucky, her characters and, it seems, the art of writing itself. …her story transforms into a meditation on womanhood, literature, resilience and freedom. It's a spellbinding tale." — Book Page