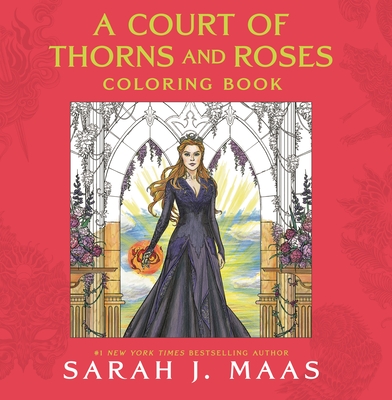 A Court of Thorns and Roses Coloring Book
Publication Date:
May 2nd, 2017
Publisher:
Bloomsbury Publishing
Usually Ships in 1 to 5 Days
Description
This must-have companion invites readers to experience the vivid imagery of Sarah J. Maas's #1 New York Times bestselling A Court of Thorns and Roses series. 46 pieces of stunning original artwork bring to life favorite characters, creatures, and moments, including the lush beauty of the Spring Court and the glimmering vibrancy of the Night Court. Join Feyre as she falls in love, wages war, and explores the haunting and deadly world of the Fae.
Praise for A Court of Thorns and Roses Coloring Book
"Passionate, violent, sexy and daring. . . . A true page-turner, A Court of Thorns and Roses will envelop you in its telling, intriguing and delighting you in turn. . . . Not to be missed!" —USA Today on A COURT OF THORNS AND ROSES
"Suspense, romance, intrigue and action. This is not a book to be missed!" —Huffington Post on A COURT OF THORNS AND ROSES
"Author Sarah J. Maas delivers what may be her best work to date in the fairy tale-inspired A Court of Thorns and Roses. Enchanting, spellbinding and imaginative." —USA Today on A COURT OF THORNS AND ROSES
"Simply dazzles. . . . the clamor for a sequel will be deafening" —starred review, Booklist on A COURT OF THORNS AND ROSES
"A thrilling game changer that's fiercely romantic, irresistibly sexy and hypnotically magical. . . . A flawless sequel that will once again leave us desperately clamoring for more, more, more." —USA Today on A COURT OF MIST AND FURY
"[T]he world is exquisitely crafted, the large cast of secondary characters fleshed out, the action intense, and the twist ending surprising, heartrending, and, as always, sure to guarantee readers' return. . . . When has Maas not churned out a best-seller? Her ongoing Throne of Glass series is enormously popular, and this sequel in an equally devoured new series is primed for similar success." —Booklist on A COURT OF MIST AND FURY
"An immersive, satisfying read." —Publisher's Weekly on A COURT OF MIST AND FURY
"Hits the spot for fans of dark. lush, sexy fantasy." —Kirkus Reviews on A COURT OF MIST AND FURY