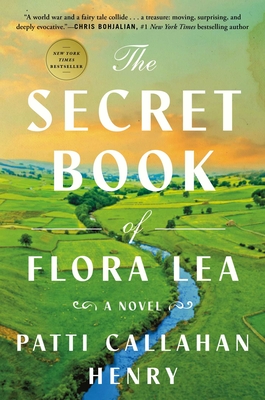 The Secret Book of Flora Lea: A Novel
Publication Date:
May 2nd, 2023
Usually Ships in 1 to 5 Days
This book is pure magic about the power of story, the bond between sisters, hope, perseverance, mystery, and an unexpected twist. Not to be missed, it may be Patti Callahan Henry's best yet!
May 2023 Indie Next List
Description
INSTANT NEW YORK TIMES BESTSELLER
When a woman discovers a rare book that has connections to her past, long-held secrets about her missing sister and their childhood spent in the English countryside during World War II are revealed.
In the war-torn London of 1939, fourteen-year-old Hazel and five-year-old Flora are evacuated to a rural village to escape the horrors of the Second World War. Living with the kind Bridie Aberdeen and her teenage son, Harry, in a charming stone cottage along the River Thames, Hazel fills their days with walks and games to distract her young sister, including one that she creates for her sister and her sister alone—a fairy tale about a magical land, a secret place they can escape to that is all their own.
But the unthinkable happens when young Flora suddenly vanishes while playing near the banks of the river. Shattered, Hazel blames herself for her sister's disappearance, and she carries that guilt into adulthood as a private burden she feels she deserves.
Twenty years later, Hazel is in London, ready to move on from her job at a cozy rare bookstore to a career at Sotheby's. With a charming boyfriend and her elegantly timeworn Bloomsbury flat, Hazel's future seems determined. But her tidy life is turned upside down when she unwraps a package containing an illustrated book called Whisperwood and the River of Stars. Hazel never told a soul about the imaginary world she created just for Flora. Could this book hold the secrets to Flora's disappearance? Could it be a sign that her beloved sister is still alive after all these years?
As Hazel embarks on a feverish quest, revisiting long-dormant relationships and bravely opening wounds from her past, her career and future hang in the balance. An astonishing twist ultimately reveals the truth in this transporting and refreshingly original novel about the bond between sisters, the complications of conflicted love, and the enduring magic of storytelling.
Praise for The Secret Book of Flora Lea: A Novel
"A world war and a fairy tale collide in the British countryside in 1940--and Patti Callahan Henry is the perfect novelist to explore how the living are forever changed. The Secret Book of Flora Lea is a treasure: moving, surprising, and deeply evocative of an England that everyday walked the tightrope between heartbreak and hope. --Chris Bohjalian, #1 New York Times bestselling author of The Lioness and The Flight Attendant
"Deft, lyrical and supremely satisfying, The Secret Book of Flora Lea isn't so much a departure for Patti Callahan Henry as it is a culmination of her gifts as a novelist. This is a book about difficult history and unsinkable hope, ordinary magic in the form of love, and about how our stories can save and sustain us in the most trying moments of our lives. Callahan's plot will keep you guessing even as her characters steal your heart. I loved it."  --Paula McLain, author of The Paris Wife and When the Stars Go Dark
"A spellbinding tale of hope and perseverance, The Secret Book of Flora Lea is as enchanting and whimsical as the Whisperwood fairytale hidden within its pages. It reminds us that a happily-ever-after isn't out of reach—so long as we heed the tiny voice within, whispering that the real magic of the story may be closer than we think."  —Sarah Penner, New York Times bestselling author of The Lost Apothecary and The London Seance Society
"Two sisters, dual time periods, a magical secret place, an abiding mystery--The Secret Book of Flora Lea is an enchanting story of survival against all odds. With her trademark warmth and a feather-light touch, Patti Callahan Henry weaves together events both real and imagined. Transporting, heartfelt, and atmospheric."  --Christina Baker Kline, New York Times bestselling author of Orphan Train and The Exiles
The Secret Book of Flora Lea is a beguiling blend of hope, mystery, and true familial love. It exposes the deep wounds of a family tragically separated because of war. Told in an utterly fresh way with dual timelines and a host of unforgettable characters, this is a story that is both necessary and satisfying through the last page. Powerful and spellbinding!" --Sadeqa Johnson, New York Times bestselling author of The House of Eve 
 "A fantastical tale of the power of stories and the bond between sisters…I absolutely loved this book."—Jamie Ford, New York Times bestselling author of The Many Daughters of Afong Moy
"At the heart of this novel is a shattering loss that irrevocably changes the lives of a cast of complex, delightful characters. Henry is a born storyteller, keeping the reader on tenterhooks as she expertly unveils the truths and lies that drive this gripping, magical tale."  —Fiona Davis, New York Times bestselling author of The Magnolia Palace
"In this gorgeous ode to books and storytellers, Patti Callahan Henry shows that literature lives inside us, and can unite us despite the odds. Through war, young love, a sister's remorse, and a mysterious land called Whisperwood, I was torn between savoring each word and tearing through the pages to learn what happened next. Pure magic!" —Janet Skeslien Charles, New York Times bestselling author of The Paris Library
"Patti Callahan Henry is a master of the elusive fairy tale, and nowhere is her talent on better display than in the pages of The Secret Book of Flora Lea, a bittersweet tale of loss, destiny, and the strings of deep love that bind us together across the years. The terror and heartbreak of the World War II children's evacuation of London collide with the dangling threads of an unsolved mystery that picks up nearly two decades later, at the dawn of the swinging Sixties. This heartrending, captivating tale of family, first love, and fate will sweep you away." —Kristin Harmel, New York Times bestselling author of The Forest of Vanishing Stars and The Book of Lost Names
"[A]ffecting…Henry's offering shines most in its exploration of the ways relationships grow and adapt to time and trauma, making for a poignant meditation on the bonds of sisterhood. This captivates." —Publishers Weekly