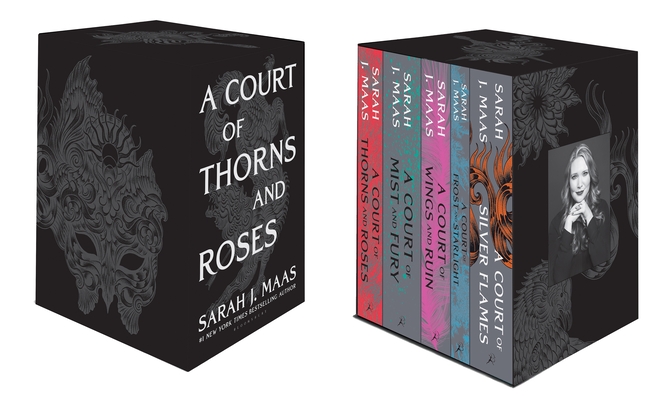 A Court of Thorns and Roses Hardcover Box Set
Publication Date:
October 12th, 2021
Publisher:
Bloomsbury Publishing
Usually Ships in 1 to 5 Days
Description
All five of the Court of Thorns and Roses hardcovers with the new series look in a luxe box set perfect for the holiday season.
Passionate, violent, sexy and daring ... A true page-turner - USA TODAY on A Court of Thorns and Roses
Feyre is a huntress. The skin of a wolf would bring enough gold to feed her sisters for a month. But the life of a magical creature comes at a steep price, and Feyre has just killed the wrong wolf ...
Follow Feyre's journey into the dangerous, alluring world of the Fae, where she will lose her heart, face her demons, and learn what she is truly capable of.
The world expands in A Court of Silver Flames with the story of Feyre's fiery sister, Nesta.
This stunning, five-book box set of the #1 New York Times bestselling series by Sarah J. Maas includes A Court of Thorns and Roses, A Court of Mist and Fury, A Court of Wings and Ruin, A Court of Frost and Starlight, and A Court of Silver Flames.
Praise for A Court of Thorns and Roses Hardcover Box Set
"Simply dazzles." —starred review, Booklist on A COURT OF THORNS AND ROSES
"Passionate, violent, sexy and daring ... A true page-turner." —USA TODAY on A COURT OF THORNS AND ROSES
"Suspense, romance, intrigue and action. This is not a book to be missed!" —The Huffington Post on A COURT OF THORNS AND ROSES
"Fiercely romantic, irresistibly sexy, and hypnotically magical. A Veritable feast for the senses." —USA Today on A COURT OF MIST AND FURY
"Hits the spot for fans of dark, lush, sexy fantasy." —Kirkus Reviews on A COURT OF MIST AND FURY
"Fast-paced and explosively action packed." —Booklist on A COURT OF WINGS AND RUIN
"Alluring characters, [an] irresistible world and never-ending action." —RT Book Reviews on A COURT OF WINGS AND RUIN