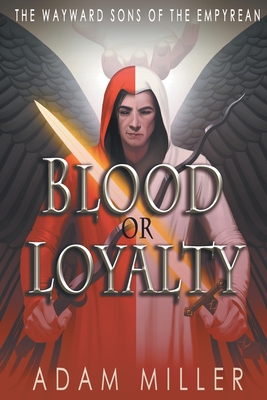 Blood or Loyalty (The Wayward Sons of the Empyrean #1)
Publication Date:
April 26th, 2021
Publisher:
Evolved Publishing
Description
Good or evil was never the choice.
WINNER: Pinnacle Book Achievement Award, Summer 2021 - Best Religious Fiction
BRONZE MEDAL: Readers' Favorite Book Awards 2021 - Young Adult - Religious Theme
"...an insightful and exciting retelling of Lucifer's rebellion against God at the dawn of creation. ...an unforgettable read." Readers' Favorite Book Reviews, K.C. Finn (5 STARS)
"The narrative was brilliant, and I do not say that lightly. The action was palpable, it was intense...." Readers' Favorite Book Reviews, Rabia Tanveer (5 STARS)
Gabriel reminisces about his genesis while standing side-by-side with his big brother, Lucifer, and the other 13 archangels, as their Father creates the universe around them. They explore the seven distinct levels of Heaven and encounter the extraordinary, yet sometimes dangerous, beast that resides within them. They learn about their unique abilities, which they use to build structures or in friendly sport against each other. They honor their Father, and life is perfect... in the beginning.
When their Father mentions a four-letter name, Gabriel sees the hatred and jealousy build within Lucifer. Soon, angels face a difficult choice, one that will split Heaven in two.
"...one of the best books I have read about the primordial conflict between angelic beings. The novel is well-plotted, hugely imaginative, and packed with action." Readers' Favorite Book Reviews, Romuald Dzemo (5 STARS)
EVOLVED PUBLISHING PRESENTS an epic religious fantasy, the first of the 6-book series, "The Wayward Sons of the Empyrean." Discover biblical characters as you have never seen them before, as they engage in a war for the ages.
BOOKS BY ADAM MILLER:
"Blood or Loyalty"
"The Genesis Conflict"
"The Exodus War"
"The Wolf in Sheep's Clothing"
"The Omega Game"
"Final Judgment"
MORE GREAT RELIGIOUS SCI-FI & FANTASY FROM EVOLVED PUBLISHING:
The "A Nephilim Thriller" Series by Jeff Altabef
The "Hellbound" Series by William LJ Galaini
The "Eloah" Series by Lex Allen
The "Matthew Bishop" Series by Burt Clinchandhill
"The Tormenting Beauty of Empathy" by Richard Robbins