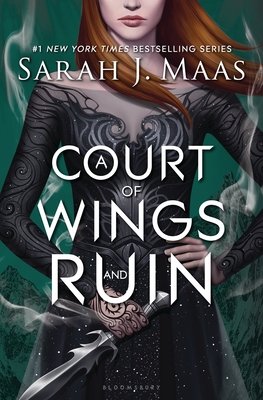 A Court of Wings and Ruin (A Court of Thorns and Roses #3)
Publication Date:
May 2nd, 2017
Publisher:
Bloomsbury USA Childrens
Description
Feyre has returned to the Spring Court, determined to gather information on Tamlin's maneuverings and the invading king threatening to bring Prythian to its knees. But to do so she must play a deadly game of deceit-and one slip may spell doom not only for Feyre, but for her world as well.
As war bears down upon them all, Feyre must decide who to trust amongst the dazzling and lethal High Lords-and hunt for allies in unexpected places.
In this thrilling third book in the #1 New York Times and USA Today bestselling series from Sarah J. Maas, the earth will be painted red as mighty armies grapple for power over the one thing that could destroy them all.
Praise for A Court of Wings and Ruin (A Court of Thorns and Roses #3)
"Some alliances are still dangerous--recruiting monsters to fight the monstrous is always a dicey proposition--and double agents abound. Side characters' romantic storylines are interwoven with the strategizing and even the war, pairing the expanded world with extended action sequences and character revelations, and the conclusion's ramifications will be felt in the next installments." —Kirkus Reviews
"Passionate, violent, sexy and daring. . . . A true page-turner, A Court of Thorns and Roses will envelop you in its telling, intriguing and delighting you in turn. . . . Not to be missed!" —USA Today on A COURT OF THORNS AND ROSES
"Suspense, romance, intrigue and action. This is not a book to be missed!" —Huffington Post on A COURT OF THORNS AND ROSES
"Author Sarah J. Maas delivers what may be her best work to date in the fairy tale-inspired A Court of Thorns and Roses. Enchanting, spellbinding and imaginative." —USA Today on A COURT OF THORNS AND ROSES
"Simply dazzles. . . . the clamor for a sequel will be deafening." —Booklist on A COURT OF THORNS AND ROSES
"A thrilling game changer that's fiercely romantic, irresistibly sexy and hypnotically magical. . . . A flawless sequel that will once again leave us desperately clamoring for more, more, more." —USA Today on A COURT OF MIST AND FURY
"[T]he world is exquisitely crafted, the large cast of secondary characters fleshed out, the action intense, and the twist ending surprising, heartrending, and, as always, sure to guarantee readers' return. . . . When has Maas not churned out a best-seller? Her ongoing Throne of Glass series is enormously popular, and this sequel in an equally devoured new series is primed for similar success." —Booklist on A COURT OF MIST AND FURY
"An immersive, satisfying read." —Publishers Weekly on A COURT OF MIST AND FURY
"Hits the spot for fans of dark, lush, sexy fantasy." —Kirkus Reviews on A COURT OF MIST AND FURY