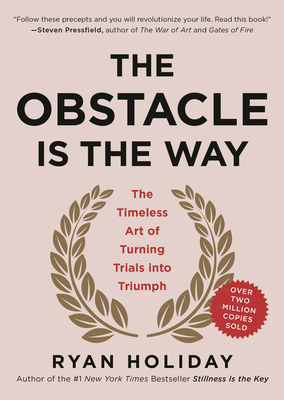 The Obstacle Is the Way: The Timeless Art of Turning Trials into Triumph
Publication Date:
May 1st, 2014
Usually Ships in 1 to 5 Days
Description
#1 Wall Street Journal Bestseller
The Obstacle is the Way has become a cult classic, beloved by men and women around the world who apply its wisdom to become more successful at whatever they do.
Its many fans include a former governor and movie star (Arnold Schwarzenegger), a hip hop icon (LL Cool J), an Irish tennis pro (James McGee), an NBC sportscaster (Michele Tafoya), and the coaches and players of winning teams like the New England Patriots, Seattle Seahawks, Chicago Cubs, and University of Texas men's basketball team.
The book draws its inspiration from stoicism, the ancient Greek philosophy of enduring pain or adversity with perseverance and resilience. Stoics focus on the things they can control, let go of everything else, and turn every new obstacle into an opportunity to get better, stronger, tougher. As Marcus Aurelius put it nearly 2000 years ago: "The impediment to action advances action. What stands in the way becomes the way." 
Ryan Holiday shows us how some of the most successful people in history—from John D. Rockefeller to Amelia Earhart to Ulysses S. Grant to Steve Jobs—have applied stoicism to overcome difficult or even impossible situations. Their embrace of these principles ultimately mattered more than their natural intelligence, talents, or luck.
If you're feeling frustrated, demoralized, or stuck in a rut, this book can help you turn your problems into your biggest advantages. And along the way it will inspire you with dozens of true stories of the greats from every age and era.
Praise for The Obstacle Is the Way: The Timeless Art of Turning Trials into Triumph
"The book on stoicism that's taking the NFL by storm."
–Sports Illustrated
"The best one I've read. Ryan Holiday is brilliant. If I had read The Obstacle Is the Way sooner, a few things might have been different."
- Rory McIlroy, 2x PGA Champion
"Follow these precepts and you will revolutionize your life. Read this book!"
—Steven Pressfield, author of The War of Art and Gates of Fire
"A book for the bedside of every future—and current—leader in the world."
—Robert Greene, author of The 48 Laws of Power and Mastery
"First came Marcus Aurelius, then Frederick the Great . . . and now there's you. This surprising book shows you how to craft a life of wonder by embracing obstacles and challenges."
—Chris Guillebeau, author of The $100 Startup

"A very, very good book with lots of examples about people who had to overcome great obstacles to have success."
—Nick Saban, head football coach at the University of Alabama 
"In this tight, engaging book, Ryan Holiday shines a bright, powerful light on the path to living and leading well. Read it, learn from it, and get cracking!"
—Nancy F. Koehn, historian and leadership expert, Harvard Business School
"My life has been beset with obstacles. It takes practice (and pain) to surmount them and achieve success. Ryan's book is a how-to guide for just that."
—James Altucher, investor and author of Choose Yourself
 
"Ryan Holiday has written a brilliant and engaging book, well beyond his years. . . . It is invaluable."
—Honorable Frederic Block, Judge, U.S. District Court
"Even though I was familiar with the basis for this book — the ancient philosophy of stoicism: overcoming obstacles through the practice of wisdom, courage, self-control, and mindfulness — it felt like a revelation when I read it."
—Allison K. Hill, Los Angeles Daily News
 
"Tremendous! Go buy every book that Ryan Holiday has written."
—John Tesh, host of national radio show Intelligence for Your Life