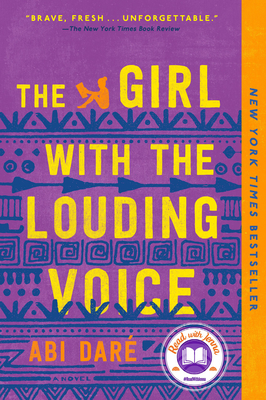 The Girl with the Louding Voice: A Read with Jenna Pick (A Novel)
Publication Date:
February 23rd, 2021
Usually Ships in 1 to 5 Days
This year is overflowing with phenomenal debuts — including this one from Abi Daré. It tells the story of Adunni, a young girl in Nigeria whose dreams and ambition focus in on one thing: education. In a city where girls like her are looked down upon and considered unworthy, she comes to find that change can begin with even the smallest of voices. This story is the kind that makes you itch: you'll ache for Adunni, bristle at the people who treat her so unjustly, and yearn for her to succeed. This is a stunning, important, and fascinating first novel.
March 2020 Indie Next List
Description
AN INSTANT NEW YORK TIMES BESTSELLER

A READ WITH JENNA TODAY SHOW BOOK CLUB PICK! 
"Brave, fresh . . . unforgettable."—The New York Times Book Review

"A celebration of girls who dare to dream."—Imbolo Mbue, author of Behold the Dreamers (Oprah's Book Club pick)
 
Shortlisted for the Desmond Elliott Prize and recommended by The New York Times, Marie Claire, Vogue, Essence, PopSugar, Daily Mail, Electric Literature, Red, Stylist, Daily Kos, Library Journal, The Everygirl, and Read It Forward!
The unforgettable, inspiring story of a teenage girl growing up in a rural Nigerian village who longs to get an education so that she can find her "louding voice" and speak up for herself, The Girl with the Louding Voice is a simultaneously heartbreaking and triumphant tale about the power of fighting for your dreams.  Despite the seemingly insurmountable obstacles in her path, Adunni never loses sight of her goal of escaping the life of poverty she was born into so that she can build the future she chooses for herself – and help other girls like her do the same.  Her spirited determination to find joy and hope in even the most difficult circumstances imaginable will "break your heart and then put it back together again" (Jenna Bush Hager on The Today Show) even as Adunni shows us how one courageous young girl can inspire us all to reach for our dreams…and maybe even change the world.
Praise for The Girl with the Louding Voice: A Read with Jenna Pick (A Novel)
"Adunni's brave, fresh voice powerfully articulates a resounding anger toward Africa's toxic patriarchy. . . . Daré draws the reader in with a vivid character whose dire circumstances are contrasted with her natural creativity (she keeps her spirits up by composing comic songs imagining a fabulous future) and her undying will to survive. . . . Throughout her harrowing coming-of-age journey, told with verve and compassion, Adunni never loses the 'louding voice' that makes Daré's story, and her protagonist, so unforgettable."—The New York Times Book Review
"Inspiring . . . explores a spirit and hope that cannot be contained even in the grimmest of circumstances."—Entertainment Weekly

"It will break your heart and then it will put it back together again."—Jenna Bush Hager on the Today show

"I'm excited about this debut novel from Nigerian author Abi Daré. . . . In Nigeria, and around the world, girls are fighting for their right to learn. I'm grateful to Abi for showing the challenges Nigerian girls face and showcasing the power of their voices."—Malala Yousafzai
"A courageous story."—The New York Times

"A powerful debut about fighting for our dreams."—PopSugar

"[A] compelling debut."—Ms., "Feminist Books Coming Out in 2020"
"A bold new storyteller . . . Abi Daré's fearless debut is a celebration of girls who dare to dream and those who help unfurl their wings so that they might soar."—Imbolo Mbue, New York Times bestselling author of Behold the Dreamers (Oprah's Book Club pick)
"I'm a big fan of hyper-realistic dialogue and using the sounds of a world to shape the energy of a novel, and so I was immediately drawn to The Girl with the Louding Voice. . . . [Adunni] is a youthful, dynamic guide with serious bite and poetic language."—Kiley Reid, New York Times bestselling author of Such a Fun Age

"Gorgeous, devastating, and unforgettable. I am enraptured by this book." —Elizabeth Gilbert, #1 New York Times bestselling author of City of Girls and Eat, Pray, Love

"The girl with the louding voice is a character for the ages. Adunni is a girl who narrates her own suffering with levity, who paints depth and texture and beauty into her Nigerian homeland, who tenderly cultivates her own humanity even while everything around her seeks to thwart it. She is an ambassador for girls everywhere. She is important, funny, brave, and enduring. Abi Daré has written an unforgettable novel, by the strength of her own louding voice."—Jeanine Cummins, New York Times bestselling author of American Dirt

"Abi Daré's debut novel The Girl with the Louding Voice is a beautifully rendered, achingly real portrait of Adunni, a young woman finding her strength and shaping her destiny in modern-day Nigeria. Adunni's voice weaves and dances its way across the pages with a rhythm that captivated me, astonished me, and, more than once, broke my heart. Brava to Daré for bringing this compelling character out of the shadows and into our lives."—Tara Conklin, New York Times bestselling author of The House Girl and The Last Romantics
"A stunning novel—original, beautiful, and powerful. I was utterly captivated by Adunni and her mesmerizing louding voice."—Rosamund Lupton, New York Times bestselling author of Sister
"A coming-of-age tale like none other you'll read this year, narrated by a young woman you'll never forget. Beautiful, bracing, and arguably as transformative a journey for the reader as for the book's brave heroine."—Liam Callanan, bestselling author of Paris by the Book
"Through Adunni's narration, Daré introduces readers to the full scope of the young woman's widening world. The narrator's attempts to make the unknown familiar often come across like metaphors in poetry. Readers leave Adunni knowing that she has the intellectual resources and the guts to face whatever challenges she must in order to attain her goals."—Shelf Awareness
"A heartwarming, enlightening novel . . . Through the moving story of a girl's persistent struggle to acquire an education, The Girl with the Louding Voice brings deep, significant issues into focus."—BookPage
"Captivating . . . Daré's arresting prose provides a window into the lives of Nigerians of all socioeconomic levels and shows readers the beauty and humor that may be found even in the midst of harrowing experiences."—Booklist
"Heartbreaking and inspiring . . . A moving story of what it means to fight for the right to live the life you choose."—Kirkus Reviews
'The book character I love the most is…Abi Daré's brilliant Adunni.' —Maggie O'Farrell for Red Magazine