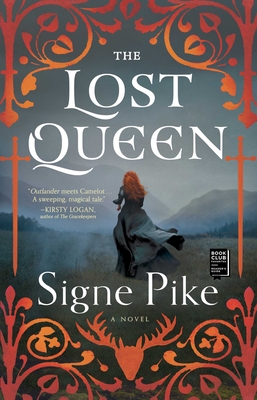 The Lost Queen: A Novel
Publication Date:
June 4th, 2019
Usually Ships in 1 to 5 Days
Description
"Outlander meets Camelot" (Kirsty Logan, author of The Gracekeepers) in the first book of an exciting historical series that reveals the untold story of Languoreth—a powerful and, until now, tragically forgotten queen of 6th-century Scotland—twin sister of the man who inspired the legendary character of Merlin.
Intelligent, passionate, rebellious, and brave, Languoreth is the unforgettable heroine of The Lost Queen, a tale of conflicted loves and survival set against the cinematic backdrop of ancient Scotland, a magical land of myths and superstition inspired by the beauty of the natural world. One of the most powerful early medieval queens in British history, Languoreth ruled at a time of enormous disruption and bloodshed, when the burgeoning forces of Christianity threatened to obliterate the ancient pagan beliefs and change her way of life forever.
Together with her twin brother Lailoken, a warrior and druid known to history as Merlin, Languoreth is catapulted into a world of danger and violence. When a war brings the hero Emrys Pendragon, to their door, Languoreth collides with the handsome warrior Maelgwn. Their passionate connection is forged by enchantment, but Languoreth is promised in marriage to Rhydderch, son of the High King who is sympathetic to the followers of Christianity. As Rhydderch's wife, Languoreth must assume her duty to fight for the preservation of the Old Way, her kingdom, and all she holds dear.
"Moving, thrilling, and ultimately spellbinding" (BookPage), The Lost Queen brings this remarkable woman to life—rescuing her from obscurity, and reaffirming her place at the center of the most enduring legends of all time. "Moving, thrilling, and ultimately spellbinding, The Lost Queen is perfect for readers of historical fiction like The Clan of the Cave Bear and Wolf Hall, and for lovers of fantasy like Outlander and The Mists of Avalon" (BookPage).
Praise for The Lost Queen: A Novel
"Outlander meets Camelot – but with the focus firmly on the lives and loves of women. A sweeping, magical tale of a rarely-told part of Scotland's history."
—Kirsty Logan, author of The Grace Keepers
"The Mists of Avalon for a new generation. Pike vividly recreates both the magic and brutality of early medieval Britain, replete with betrayals and love affairs, battles and escapes, and an unforgettable heroine at the center of it all. A gripping historical novel."
—Linnea Hartsuyker, author of The Half-Drowned King
"Rich in detail and elegantly written, The Lost Queen is a boldly feminine heroic journey to a place and time of unbearable change. Hypnotic and sensual, Pike's story reawakens us to something long ago lost between landscape and memory, where the Old Way still exists, and the bond between brother and sister cannot be broken. Mystical, beautiful, and destined to become a classic."
—Brunonia Barry, author of The Lace Reader and The Fifth Petal
"In her extraordinary debut, Signe Pike assuredly transports the reader to an ancient past, bringing it vividly to life through her beautiful writing. Languoreth is a bold and complex heroine readers will be rooting for until the last page. Mystical, epic and captivating, I couldn't put it down, and look forward to the next installment of this intriguing trilogy."
— Hazel Gaynor, New York Times bestselling author of The Girl Who Came Home and The Lighthouse Keeper's Daughter
"An extraordinary historical page-turner. Pike brings a creative eye, unique voice and immaculate research to the world of historical fiction - the people and lands of this novel will not leave me. The Lost Queen is more than a book; it is a profound experience. Languoreth has emerged from the mists of Scotland to assume her rightful place on the throne where she belongs."
—Patti Callahan Henry, New York Times bestselling author of The Book Shop at Water's End and Becoming Mrs. Lewis
"Pike has set out to reconstruct the historical underpinnings of the Arthur legends, tracing their roots to what is today Scotland… The language does a fine job of evoking the period. An unusual take on Dark Ages drama which may well command a following."
— Kirkus Reviews
"THE LOST QUEEN, Signe Pike's debut novel set in sixth-century Scot­land, is the rare historical epic that manages to be truly sweeping and yet always intense and person­al—at once a romance, a story of faith, a story of war and a story of family... By the end, you feel happily lost in this mist-shrouded place in history, and you only wish you could stay there longer. Moving, thrilling and ultimately spellbinding, THE LOST QUEEN is perfect for readers of historical fiction like Jean M. Auel's The Clan of the Cave Bear and Wolf Hall by Hilary Mantel, and for lovers of fantasy like Outlander by Diana Gabaldon and The Mists of Avalon by Marion Zimmer Bradley."
— BookPage