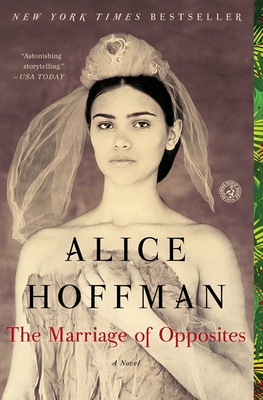 The Marriage of Opposites
Publication Date:
June 7th, 2016
Usually Ships in 1 to 5 Days
Hoffman's newest novel is based on the life of Rachel Pomie Petit Pissarro and her favorite son, Camille, who would become the famed 'Father of impressionism.' Growing up in a Jewish refugee community on tropical St. Thomas in the 1800s, strong-willed Rachel dreams of the cool, rainy streets of Paris. Raised by a stern mother and a kind-hearted father, Rachel is forced to marry a widower to save her family's business and later follows forbidden passions, creating a scandal that turns her community against her. Hoffman fills the pages with the island's magic and color in this unforgettable tale of what it means to walk the tightrope between tradition and independence, love and logic.
August 2015 Indie Next List
Description
"A luminous, Marquez-esque tale" (O, The Oprah Magazine) from the New York Times bestselling author of The Museum of Extraordinary Things: a forbidden love story set on a tropical island about the extraordinary woman who gave birth to painter Camille Pissarro—the Father of Impressionism.
Growing up on idyllic St. Thomas in the early 1800s, Rachel dreams of life in faraway Paris. Rachel's mother, a pillar of their small refugee community of Jews who escaped the Inquisition, has never forgiven her daughter for being a difficult girl who refuses to live by the rules. Growing up, Rachel's salvation is their maid Adelle's belief in her strengths, and her deep, life-long friendship with Jestine, Adelle's daughter. But Rachel's life is not her own. She is married off to a widower with three children to save her father's business. When her older husband dies suddenly and his handsome, much younger nephew, Frédérick, arrives from France to settle the estate, Rachel seizes her own life story, beginning a defiant, passionate love affair that sparks a scandal that affects all of her family, including her favorite son, who will become one of the greatest artists of France.
"A work of art" (Dallas Morning News), The Marriage of Opposites showcases the beloved, bestselling Alice Hoffman at the height of her considerable powers. "Her lush, seductive prose, and heart-pounding subject…make this latest skinny-dip in enchanted realism…the Platonic ideal of the beach read" (Slate.com). Once forgotten to history, the marriage of Rachel and Frédérick "will only renew your commitment to Hoffman's astonishing storytelling" (USA TODAY).