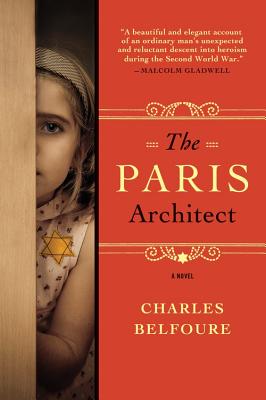 The Paris Architect: A Novel
Publication Date:
July 15th, 2014
Publisher:
Sourcebooks Landmark
Usually Ships in 1 to 5 Days
In 1942, the city of Paris was overrun by German soldiers and security troops who were on the lookout for Jews. There were some Parisians who wanted to hide the Jews, and some who wanted to turn them in. In the middle was Lucien Bernard, one of the few men capable of assisting either side if he so chose. Lucien was an architect who built secret hiding spaces for Jews in old homes. He was also short on cash and willing to risk his life for the city he loved. When something went terribly wrong, Lucien was forced to rethink his dedication and come up with a way to make amends in this powerful and gripping story.
October 2013 Indie Next List
Description
THE NEW YORK TIMES BESTSELLER!
"A gripping page-turner...a riveting reminder of sacrifices made by history's most unlikely heroes." —Kristina McMorris, New York Times bestselling author of Sold on a Monday and The Ways We Hide
An extraordinary book about a gifted architect who reluctantly begins a secret life of resistance, devising ingenious hiding places for Jews in World War II Paris.
In 1942 Paris, architect Lucien Bernard accepts a commission that will bring him a great deal of money – and maybe get him killed. All he has to do is design a secret hiding place for a Jewish man, a space so invisible that even the most determined German officer won't find it while World War II rages on. He sorely needs the money, and outwitting the Nazis who have occupied his beloved city is a challenge he can't resist.
Soon Lucien is hiding more souls and saving lives. But when one of his hideouts fails horribly, and the problem of where to conceal a Jew becomes much more personal, and he can no longer ignore what's at stake.
Book clubs will pore over the questions Charles Belfoure raises about justice, resistance, and just how far we'll go to make things right.
Also by Charles Belfoure:
The Fallen Architect
House of Thieves
Praise for The Paris Architect: A Novel
"A terrific thriller, made all the better by our knowledge that stuff like this really happened." — Minneapolis Star-Tribune
"Asks us to consider what we owe one another and just how far we will go to make things right." — Florida Sun-Sentinel
"Intriguing debut novel." — Christian Science Monitor
"Powerful and gripping." — Columbus Dispatch
"Smooth writing, fast-paced action, and description of Paris during World War II." — Historical Novel Society
"By combining his architectural background with his knowledge of Parisian culture and history, Belfoure tells an intriguing story about the people who risked their lives to save individuals who often had nothing to give in return except their gratitude." — Deseret News
"The Paris Architect perfectly mixes history and architecture into a novel of historical romance. This addictive page-turner flows from one dangerous situation to the next." — Midwest Book Review
"Belfoure manages not only to create an extremely interesting character in Lucien, but a complex tale that weaves together several plot strands. ... perfect for book clubs, particularly those that enjoy discussing the ethical implications of the characters' actions." — The Reporter
"Wartime loyalties, architectural designs and novels are never as simple as they seem. Architect Belfoure explores the complex underside of all of these things in his first novel." — The New York Post
"Belfoure has a knack for designing a tale with high tension and deep conflict ... at the end of the story, the reader will be satisfied that some people—even the worst—may not be what they seem." — New York Journal of Books
"An engaging suspense novel." — Lancaster Newspapers
"Belfoure writes like an up-and-coming Ken Follett ... There's plenty of detail to interest architecture buffs, too." — Booklist
"Belfoure's characters are well-rounded and intricate. Heart, reluctant heroism, and art blend together in this spine-chilling page-turner." — Publishers Weekly
"Architect and debut author Belfoure's portrayal of Vichy France is both disturbing and captivating, and his beautiful tale demonstrates that while human beings are capable of great atrocities, they have a capacity for tremendous acts of courage as well." — Library Journal
"In architect Belfoure's fiction debut, the architectural and historical details are closely rendered ... A satisfyingly streamlined World War II thriller." — Kirkus Reviews
"A beautiful and elegant account of an ordinary man's unexpected and reluctant descent into heroism during the Second World War." — Malcolm Gladwell
"Charles Belfoure's historical thriller delivers the suspense of Schindler's List and the German-occupied Paris of Alan Furst in this tense tale of an architect hiding Jews from the Nazis." — Julie Kramer, author of Shunning Sarah and Stalking Susan
"A gripping page-turner... Charles Belfoure shines a light on the human heart -- a complex maze of love, hope, and the yearning for redemption -- and in doing so, provides a riveting reminder of sacrifices made by history's most unlikely heroes to triumph over evil." — Kristina McMorris, New York Times bestselling author of Sold on a Monday and The Ways We Hide
"I love that in The Paris Architect, a mercenary, talented man's passion for his creative work leads him down moral roads he never could have envisioned. The ingenious hiding spaces and the people in them infiltrated my imagination for weeks. I dreamed about this novel." — Jenna Blum, New York Times bestselling author of Those Who Save Us and The Stormchasers
"A vivid, suspenseful story which keeps you gripped to the very last page. Charles Belfoure writes with great warmth, conjuring up an intriguing cast of characters, and painting a fascinating picture of Paris under the Occupation, with all its contradictions – the opulence, and the fear." — Margaret Leroy, author of The Soldier's Wife
"All novelists are architects. But are all architects novelists? Charles Belfoure in his impressive debut seems to have brought usthe best of both worlds. Here is a novel to read alongside the latest Alan Furst. I hope there will be more." — Alan Cheuse, Novelist and NPR book commentator