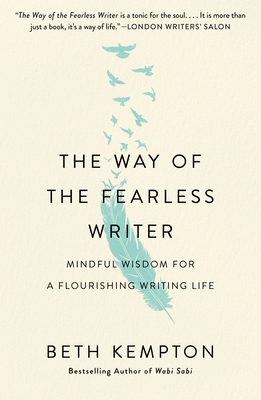 The Way of the Fearless Writer: Mindful Wisdom for a Flourishing Writing Life
Publication Date:
July 11th, 2023
Publisher:
St. Martin's Essentials
Usually Ships in 1 to 5 Days
Description
A new, mindful approach to the writing life
In a radical departure from standard advice about creative success, effort, critique, and competition, The Way of the Fearless Writer will show you that there is another way to thrive—a writing path of ease, trust, wonder, and joy.
You are invited to embark on a sacred writing journey. Along the way, author Beth Kempton will teach you how to free your mind so your body can create, transform your relationship to fear, write anytime, anywhere, and share your words with confidence. Being a fearless writer has little to do with validation and accolades. Rather it is about ritual, commitment, developing an acute awareness of beauty, dancing with inspiration, listening to the world outside yourself and going deep within. The Way of the Fearless Writer is your guide to this creative, transformational journey.
This is not just a book about how to write better. It's a book about how to live better, with your heart as your compass and writing as your guide. Offering rare insight into the writing life and a host of fresh and original writing exercises, The Way of the Fearless Writer will reveal your true potential, and open your eyes to writing as a direct connection to life itself.
Praise for The Way of the Fearless Writer: Mindful Wisdom for a Flourishing Writing Life
"Kempton mixes Buddhist principles with writing advice in a seamless, down-to-earth prose, and the prompts, such as emptying one's pockets and writing about 'what you carry,' are more innovative than the usual fare."
—Publishers Weekly

"Award-winning entrepreneur and author Kempton speaks writer to writer in this mindful approach to the writing life, based on Buddhist thought; on this journey of discovery and wonder, her tone will make them feel as though she's a friend and coconspirator in the creative process....This work showcases that creativity is as much about experiencing life as it is about putting pen to page."
—Library Journal
"In The Way of the Fearless Writer, Beth Kempton uses a Buddhist sensitivity to create a path at the intersection of our inner life, our daily life, and the lifelong practices of opening and listening; all in the service of the deeper expressive journey which, if true to, gives us access to the life below. Walk with Beth on this path and the vow to write will bring your depth to the surface and your voice into the world."
—Mark Nepo, author of Surviving Storms and The Book of Awakening
"This book is an invitation to explore the writer within through the steady and soulful prompts of Beth Kempton. She taps into ancient Eastern wisdom to reveal the way to our fearless and creative self."
—Sheila Darcey, founder of SketchPoetic and author of Sketch By Sketch
"Beth's approach is practical and honest, yet deeply spiritual and caring. The Way of the Fearless Writer is a tonic for the soul. All writers should take time to read it. We're keeping this book by our bedside. It is more than just a book, it's a way of life."
—London Writers' Salon
"Are you a writer, and if so do you live in fear? If yes and yes are your answers to this double question, then you need The Way of the Fearless Writer."
—The Times Literary Supplement (TLS)
"The Way of the Fearless Writer is a radical departure from traditional advice, allowing readers to sink into the act and art of creation - the place where formlessness meets form. A must-read for those wanting to write from an embodied sense of self."
—Steph Jagger, author of Unbound and Everything Left to Remember
"Beth Kempton is the real deal. No fluff, pure substance. The Way of the Fearless Writer is a liberating and life-giving book that will help you create a deeply meaningful writing life."
—Kate Eckman, Broadcast Journalist and author of The Full Spirit Workout