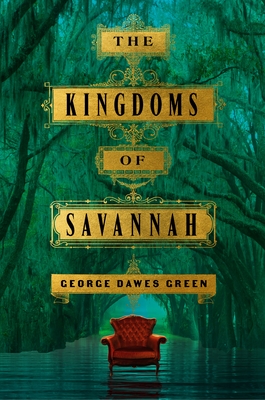 The Kingdoms of Savannah: A Novel
Publication Date:
October 17th, 2023
Usually Ships in 1 to 5 Days
Totally immersed myself in the deep south and long-standing family secrets with this delightful read. An engaging story with a wealth of history. Very much looking forward to more of Jaq and Ransom!
August 2022 Indie Next List
Description
"Around these parts, the publication of a new George Dawes Green novel is an event. … Green leans all the way into Southern Gothic, but the main grotesquerie is the city's history, built on the backs of enslaved people. His prose is languid, even luxurious, but at critical moments of suspense, he pares it back to ramp up the terror."
—New York Times Book Review
Savannah may appear to be "some town out of a fable," with its vine flowers, turreted mansions, and ghost tours that romanticize the city's history. But look deeper and you'll uncover secrets, past and present, that tell a more sinister tale. It's the story at the heart of George Dawes Green's chilling new novel, The Kingdoms of Savannah.
It begins quietly on a balmy Southern night as some locals gather at Bo Peep's, one of the town's favorite watering holes. Within an hour, however, a man will be murdered and his companion will be "disappeared." An unlikely detective, Morgana Musgrove, doyenne of Savannah society, is called upon to unravel the mystery of these crimes. Morgana is an imperious, demanding, and conniving woman, whose four grown children are weary of her schemes. But one by one she inveigles them into helping with her investigation, and soon the family uncovers some terrifying truths—truths that will rock Savannah's power structure to its core.
Moving from the homeless encampments that ring the city to the stately homes of Savannah's elite, Green's novel brilliantly depicts the underbelly of a city with a dark history and the strangely mesmerizing dysfunction of a complex family.
Praise for The Kingdoms of Savannah: A Novel
"The Kingdoms of Savannah is a novel about a place and the people in that place that reads like a thriller but could only have been written by someone who knows Savannah and its stories intimately and wants them to be told. It's the apotheosis of Southern Gothic Noir."
—Neil Gaiman, Author of American Gods
"A rich, sprawling, dazzling mystery that's also a journey into history—of a nation, of a city, and of one unforgettably dysfunctional family. I savored every page."
—Riley Sager, New York Times bestselling author of The House Across the Lake
"Compelling characters and vivid settings make this impressive Southern narrative stand out among the best. THE KINGDOMS OF SAVANNAH is not to be missed."
—Karin Slaughter, New York Times bestselling author
"In a sense all good novels are mysteries, but I've never read a mystery novel any finer than this one. It impeccably fulfills every requirement of the genre—idiosyncratic heroes and villains, exotic milieus, ugly secrets, surprising twists, gratifying turns. But George Dawes Green serves up so many other literary pleasures: deep appreciation of human complexity, unparalleled insight into a famously bewitching city and its arrangements of race and class, an acute sense of the differences between real and fake history, sentiment without sentimentality, comedy and tragedy perfectly intertwined, all depicted in gorgeous prose. The Kingdoms of Savannah is utterly satisfying."
—Kurt Andersen, New York Times bestselling author of Evil Geniuses
"Deeply rooted in Savannah's at times horrific history, yet looking hopefully toward the future, this provocative page-turner is sure to enthrall a broad spectrum of readers. Green is writing at the top of his game."
—Publishers Weekly, STARRED Review
"In his first novel in more than a decade, Edgar Award winner Green delivers a gripping and expertly researched Southern literary thriller that is anything but cozy. Most powerful is the novel's exploration of contemporary social issues like homelessness, privilege, and familial legacies built from slavery. Through masterful storytelling, Green turns the quaint and eclectic tourist town of Savannah into a character as conflicted and complex as the rest of the novel's ensemble."
—Kirkus, STARRED Review