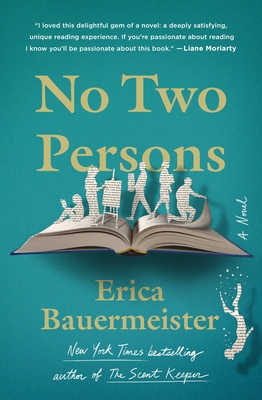 No Two Persons: A Novel
Publication Date:
May 2nd, 2023
Publisher:
St. Martin's Press
A compelling, uniquely written book about the power of stories, reading, and how finding the right story at the right time can affect us. I cannot wait to shareNo Two Personswith all the readers at the shop.
May 2023 Indie Next List
Description
One book. Nine readers. Ten changed lives. New York Times bestselling author Erica Bauermeister's No Two Persons is "a gloriously original celebration of fiction, and the ways it deepens our lives."*
That was the beauty of books, wasn't it? They took you places you didn't know you needed to go…

Alice has always wanted to be a writer. Her talent is innate, but her stories remain safe and detached, until a devastating event breaks her heart open, and she creates a stunning debut novel. Her words, in turn, find their way to readers, from a teenager hiding her homelessness, to a free diver pushing himself beyond endurance, an artist furious at the world around her, a bookseller in search of love, a widower rent by grief. Each one is drawn into Alice's novel; each one discovers something different that alters their perspective, and presents new pathways forward for their lives.
Together, their stories reveal how books can affect us in the most beautiful and unexpected of ways—and how we are all more closely connected to one another than we might think.
"With its beautiful parts that add up to a brilliant whole, No Two Persons made my reader's heart sing."—*Nina de Gramont, New York Times bestselling author of The Christie Affair
Praise for No Two Persons: A Novel
"I loved this delightful gem of a novel: a deeply satisfying, unique reading experience. If you're passionate about reading I know you'll be passionate about this book."—Liane Moriarty, New York Times bestselling author
"In her lyrical, haunting new novel, No Two Persons, Erica Bauermeister shares the unexpected, exquisite ways in which one special book transforms its readers' lives. As the novel-within-the-novel passes through the hands of a vast array of people—ranging from an actor to a swimmer to a homeless student, among others—it acts as a guide for the lost, serving in different manners for different readers. A wondrous ode to the power of fiction, No Two Persons will linger with its readers in much the same way its fictional novel remained with its characters."—Marie Benedict, New York Times bestselling author
"Rendered in precise and distilled prose, No Two Persons beautifully explores the connections that save us, the traumas that shape us, and the power of words and story to heal us. With spot-on descriptions and a keen understanding of human vulnerability, Erica Bauermeister has written a book filled with power and grace that will utterly transform its reader. A large-hearted, wise, and magnificent novel." — Marjan Kamali, author of The Stationery Shop and Together Tea
"What a joy to see the separate parts of No Two Person leap across time to build its terrific story. When the tragic life of a writer's brother fires the novel she's always wanted to write, its path in the world is beyond what we could guess. I loved the power this plot gives to reading itself, that dear and vital realm of our experience." —Joan Silber, award-winning author of Secrets of Happiness
"Unforgettable. No Two Persons is a beautiful and haunting love letter to the redemptive power of stories and the impressive mark it leaves on readers. Bauermeister is a powerful storyteller who weaves a brilliant narrative, while painting portraits of compelling characters." —Kim Michele Richardson, New York Times bestselling author of The Book Woman of Troublesome Creek
"I am madly in love with this book. Erica Bauermeister has written a gloriously original celebration of fiction, and the ways it deepens our lives. Each story in this cycle stands alone, and at the same time carries the arc--not only through the novel that's its central character, but a cast of recurring players who connect in the most unexpected and satisfying ways. With its beautiful parts that add up to a brilliant whole, No Two Persons made my reader's heart sing." —Nina de Gramont, New York Times bestselling author of The Christie Affair
"The greatest compliment a writer can pay another is to say, 'I wish I'd written that.' Well, I wish I'd written No Two Persons. I couldn't put it down. Evocative. Brilliant. Complex. Immensely satisfying. Storytelling at its best. This is one I'll be recommending to all and sundry for a long time." —Alka Joshi, author of The Henna Artist and The Secret Keeper of Jaipur
"Wondrous and moving . . . a love letter to every writer, reader and human who has ever opened their heart to the transformative power of story."—JoAnne Tomkins, author of What Comes After
"This is a novel of almost unbearable truth and beauty and depth. Plot, character, prose--the perfect book." —Louisa Morgan, author of A Secret History of Witches
"As perfect a depiction of the power of story as one could ever find, or need." —Natalie Jenner, bestselling author of The Jane Austen Society and Bloomsbury Girls
"Gorgeous, nuanced, and intimate, No Two Persons will stay with you well after the last page is turned." —Anna Quinn, author of The Night Child
"A very tender, very true book about the power of stories. Why we write them, why we need them to survive. Bauermeister creates a kaleidoscope of beautiful, unexpected ways of seeing the world."—Yara Zgheib, author of No Land to Light On
"In this beautifully written and inventive novel, Erica Bauermeister creates stories within a story, tying them together with gossamer thread. I was sad when I came to the end of this captivating and engrossing novel." —Diane Chamberlain, New York Times bestselling author of The Last House on the Street