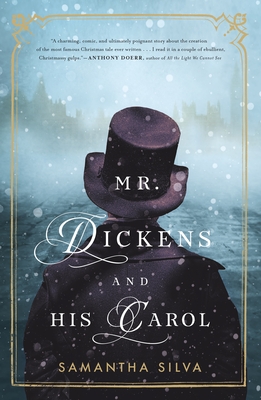 Mr. Dickens and His Carol: A Novel
Publication Date:
September 22nd, 2020
Publisher:
Flatiron Books
Usually Ships in 1 to 5 Days
Full of fantastic period detail and delightful prose, Mr. Dickens and His Carol is a wonderful companion to the enduring holiday classic A Christmas Carol. A month before Christmas, Charles Dickens is informed that his latest serial is a failure and he must produce a holiday story in one month's time or pay back his publishers for their losses. Beleaguered by his demanding relatives and expectant children, Dickens turns churlish and is unable to find any Christmas left within him to produce a fitting book. Fate intervenes when a mysterious woman crosses his path and becomes his much-needed muse, sending Dickens on a journey of inward reflection and reminding him not only of the joys of the season but how his cherished works are a gift for everyone who reads them.
November 2017 Indie Next List
Description
"CHARMING...I READ IT IN A COUPLE OF EBULLIENT, CHRISTMASSY GULPS." —Anthony Doerr, #1 New York Times bestselling author of All The Light We Cannot See
"GRACED BY THE GHOSTLY PRESENCE OF MR. DICKENS HIMSELF...PROMISES TO PUT YOU IN THE HOLIDAY SPIRIT." —USA Today

A beloved, irresistible novel that reimagines the story behind Charles Dickens' Christmas classic
Charles Dickens is not feeling the Christmas spirit. His newest book is an utter flop, the critics have turned against him, relatives near and far hound him for money. While his wife plans a lavish holiday party for their ever-expanding family and circle of friends, Dickens has visions of the poor house. But when his publishers try to blackmail him into writing a Christmas book to save them all from financial ruin, he refuses. And a serious bout of writer's block sets in.
Frazzled and filled with self-doubt, Dickens seeks solace in his great palace of thinking, the city of London itself. On one of his long night walks, in a once-beloved square, he meets the mysterious Eleanor Lovejoy, who might be just the muse he needs. As Dickens' deadlines close in, Eleanor propels him on a Scrooge-like journey that tests everything he believes about generosity, friendship, ambition, and love. The story he writes will change Christmas forever.
Praise for Mr. Dickens and His Carol: A Novel
An Indie Next Pick
"[Silva] tunes herself to Dickens's imaginative frequency…She inhabits Dickens's sensitivity to London's atmosphere, its chancellors and urchins, its cobblestones and fog."
—The New York Times Book Review
"Poignant…Impeccably delivered in a sprightly prose that wants to be read out loud…Silva, one senses, is a natural-born giver, a writer who most likely leaves a candle burning in the winter nights, inviting restless perambulators in."
—Chicago Tribune
"Mr. Dickens and His Carol is a charming, comic, and ultimately poignant story about the creation of the most famous Christmas tale ever written. It's as foggy and haunted and redemptive as the original; it's all heart, and I read it in a couple of ebullient, Christmassy gulps."
—Anthony Doerr, #1 New York Times bestselling author of All The Light We Cannot See

"Mr. Dickens and His Carol is a novel of pure charm and humor, a terrific holiday tale. Samantha Silva had me haunting those dark streets alongside her inspired Dickens."
—Jess Walter, #1 New York Times bestselling author of Beautiful Ruins

"Comical and haunting."
—oprahmag.com (Best Christmas Books of All Time)
"Glittering...Rich and poignant...infused with holiday spirit like the best of Dickens."
—BookRiot
"Graced by the ghostly presence of Mr. Dickens himself…Promise[s] to put you in the holiday spirit."
—USA Today

"In this exceptional work uncovering the grime and glitter of 19th-century London, readers will find another framework from which to examine their hearts before Christmas."
—BookPage
"Funny, clever, and touching, with a surprise ending that is a perfect Dickensian fit…Just in time for this holiday season."
—Reader's Corner
"This clever, original debut brilliantly imagines the writing of A Christmas Carol…Wildly moving, chock full of Dickensian atmosphere and written in a style as rich as a Victorian Christmas dinner."
—The Daily Mail

"Wonderfully Dickensian…With the wit and sprightly tone of a classic storyteller, Silva presents a heartwarming tale of friendship and renewal that's imbued with the true Christmas spirit."
—Booklist
"On its way to becoming a classic not unlike its subject matter."
—Bustle

"A fun and charming – not to mention unique – take on a holiday classic…Whether you're intimately familiar with A Christmas Carol or not, Mr. Dickens and His Christmas Carol is sure to please those looking to get into the holiday spirit."
—PopMatters
"Told with such eloquence and imagery that you feel like you are in Victorian England right alongside the characters…Christmas spirit leaps from the pages…This is the type of book that grips you right from the beginning to the very last page; it's the perfect book to read coming into this holiday season."
—Yakima Herald
"As welcome as a mug of hot chocolate on a December afternoon…Has all the makings of a holiday favorite…Offers the kind of gifts that readers will be happy to open again every year."
—Providence Journal
"A wonderful, heartwarming story that is filled with Christmas spirit…Brings Victorian London to life with wit, humor, and a few references to the original story…I believe [Dickens] would have liked the book."
—The Oklahoman
"[Silva's] accomplished screenwriting shines through in this, her debut novel—she conjures a distinctive voice to tell her tale, one not unlike the distinctive voice that Dickens utilizes in his stories."
—Idaho Statesman
"A lovely read."
—New York Post ("15 Books You Should Buy for Everyone on Your Gift List")
"A truly imaginative and beautifully written ghost story weaving truth and fiction to create something familiar yet new."
—Washington Independent Review of Books
"Filled with holiday spirit and comedic relief, Silva's Victorian London may be just the escape you need during what can be a frazzling time of year."
—The Everygirl
"Witty…Endearing."
—Columbus Dispatch
"Atmospheric…Entertaining…Brings yuletide London to life."
—Missourian

"Silva has imagined an intriguing and atmospheric backstory to the quintessential holiday tale and its most revered author."
—Library Journal
"No writer in the history of literature so embodies the season of Christmas as Charles Dickens, a man who was alive to his fingertips from start to finish. Among his finest moments was surely when he wrote and published his mythic tale of Scrooge, Jacob Marley, and Tiny Tim, changing hearts and minds, then and now. Samantha Silva brings the great man, the Inimitable, to sizzling life in Mr. Dickens and His Carol. This man who brimmed with Christmases past, present, and future walks onto the public stage again in these pages, takes a bow, and enjoys the ringing applause."
—Jay Parini, author of The Last Station and The Passages of H.M.