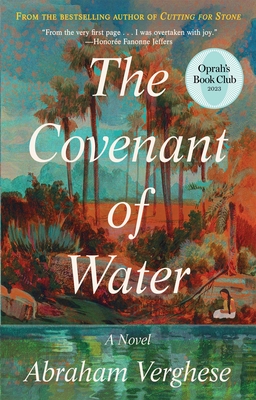 The Covenant of Water (Oprah's Book Club)
Publication Date:
May 2nd, 2023
Usually Ships in 1 to 5 Days
Another masterpiece by the great Abraham Verghese.The Covenant of Waterwill beguile and charm readers who lovedCutting for Stoneand will win many new readers.
Stephen Sparks, Point Reyes Books, Point Reyes Station, CA
May 2023 Indie Next List
Description
OPRAH'S BOOK CLUB PICK - INSTANT NEW YORK TIMES BESTSELLER - SUBJECT OF A SIX-PART SUPER SOUL PODCAST SERIES HOSTED BY OPRAH WINFREY
From the New York Times-bestselling author of Cutting for Stone comes a stunning and magisterial epic of love, faith, and medicine, set in Kerala, South India, following three generations of a family seeking the answers to a strange secret
"One of the best books I've read in my entire life. It's epic. It's transportive . . . It was unputdownable "--Oprah Winfrey, OprahDaily.com
The Covenant of Water is the long-awaited new novel by Abraham Verghese, the author of the major word-of-mouth bestseller Cutting for Stone, which has sold over 1.5 million copies in the United States alone and remained on the New York Times bestseller list for over two years.
Spanning the years 1900 to 1977, The Covenant of Water is set in Kerala, on South India's Malabar Coast, and follows three generations of a family that suffers a peculiar affliction: in every generation, at least one person dies by drowning--and in Kerala, water is everywhere. At the turn of the century, a twelve-year-old girl from Kerala's long-existing Christian community, grieving the death of her father, is sent by boat to her wedding, where she will meet her forty-year-old husband for the first time. From this unforgettable new beginning, the young girl--and future matriarch, known as Big Ammachi--will witness unthinkable changes over the span of her extraordinary life, full of joy and triumph as well as hardship and loss, her faith and love the only constants.
A shimmering evocation of a bygone India and of the passage of time itself, The Covenant of Water is a hymn to progress in medicine and to human understanding, and a humbling testament to the difficulties undergone by past generations for the sake of those alive today. It is one of the most masterful literary novels published in recent years.
About the Author
ABRAHAM VERGHESE is a graduate of the Iowa Writers' Workshop and the author of the NBCC Award finalist My Own Country and the New York Times Notable Book The Tennis Partner. His most recent book, Cutting for Stone, spent 107 weeks on the New York Times bestseller list and sold more than 1.5 million copies in the U.S. alone. It was translated into more than twenty languages and is being adapted for film by Anonymous Content. Verghese was awarded the National Humanities Medal in 2016, has received five honorary degrees, and is an elected member of the National Academy of Medicine and the American Academy of Arts & Sciences. He lives and practices medicine in Stanford, California where he is the Linda R. Meier and Joan F. Lane Provostial Professor and Vice Chair of the Department of Medicine at the Stanford University School of Medicine. A decade in the making, The Covenant of Water is his first book since Cutting for Stone.