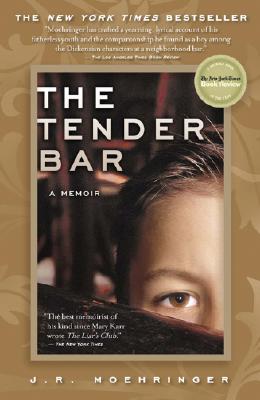 The Tender Bar: A Memoir
Publication Date:
August 1st, 2006
Publisher:
Hachette Books
Usually Ships in 1 to 5 Days
Description
Now a major Amazon film directed by George Clooney and starring Ben Affleck, Tye Sheridan, Lily Rabe, and Christopher Lloyd, a raucous, poignant, luminously written memoir about a boy striving to become a man, and his romance with a bar, in the tradition of This Boy's Life and The Liar's Club
J.R. Moehringer grew up captivated by a voice. It was the voice of his father, a New York City disc jockey who vanished before J.R. spoke his first word. Sitting on the stoop, pressing an ear to the radio, J.R. would strain to hear in that plummy baritone the secrets of masculinity and identity. Though J.R.'s mother was his world, his rock, he craved something more, something faintly and hauntingly audible only in The Voice.
At eight years old, suddenly unable to find The Voice on the radio, J.R. turned in desperation to the bar on the corner, where he found a rousing chorus of new voices. The alphas along the bar—including J.R.'s Uncle Charlie, a Humphrey Bogart look-alike; Colt, a Yogi Bear sound-alike; and Joey D, a softhearted brawler—took J.R. to the beach, to ballgames, and ultimately into their circle. They taught J.R., tended him, and provided a kind of fathering-by-committee. Torn between the stirring example of his mother and the lurid romance of the bar, J.R. tried to forge a self somewhere in the center. But when it was time for J.R. to leave home, the bar became an increasingly seductive sanctuary, a place to return and regroup during his picaresque journeys. Time and again the bar offered shelter from failure, rejection, heartbreak—and eventually from reality.
In the grand tradition of landmark memoirs, The Tender Bar is suspenseful, wrenching, and achingly funny. A classic American story of self-invention and escape, of the fierce love between a single mother and an only son, it's also a moving portrait of one boy's struggle to become a man, and an unforgettable depiction of how men remain, at heart, lost boys.
Named a best book of the year by The New York Times, Esquire, The Los Angeles Times Book Review, Entertainment Weekly, USA Today, NPR's "Fresh Air," and New York Magazine
A New York Times, Los Angeles Times, Wall Street Journal, San Francisco Chronicle, USA Today, Booksense, and Library Journal Bestseller
Booksense Pick
Borders New Voices Finalist
Winner of the Books for a Better Life First Book Award
Praise for The Tender Bar: A Memoir
"Simply a wonderful book about a heaven of a life that had everything going against it except intense love."—James Salter, author of Burning the Days
"Moehringer has crafted a yearning, lyrical account of his fatherless youth and the companionship he found...among the Dickensian characters at a neighborhood bar."—The Los Angeles Times Book Review
"The Tender Bar will make you thirsty for that life--its camaraderie, its hilarity, its seductive, dangerous wisdom."—Richard Russo, author of Empire Falls
"The best memoirist of his kind since Mary Karr wrote The Liars' Club."—The New York Times
"In his gimlet-eyed memoir, The Tender Bar, J.R. Moehringer lovingly and affectingly toasts a boyhood spent on a barstool."—Vanity Fair
"The best thing about The Tender Bar is that it is many stories in one."—Entertainment Weekly
"A memoir about coming of age in, of all places, a great American bar. Blessedly, Moehringer's story is both joyous and triumphant."—David Halberstam
"A beautiful, gravelly love letter."—The New York Times Book Review
"[Moehringer] deftly acknowledges his background's writerly connections, describing his journey--from fatherless urchin living in his grandfather's messy house to hard-drinking New York Times copyboy--with Dickensian grandeur and displaying good humor about his failures."—PEOPLE Magazine (Critic's Choice)
"Supremely great."—Graydon Carter
"J. R. Moehringer has found a new perfect."—Esquire
"It's a fierce and funny coming-of-age story about ambition and yearning and necessary betrayals . . . superb literary brew."—NPR "Fresh Air"
"An engaging delight."—The San Francisco Chronicle
"Intoxicating and sobering. Emotionally engrossing, beautifully written."—Atlanta Journal-Constitution
"A wistful study of the character--and characters--of a Long Island bar...in the tradition of Joseph Mitchell and Damon Runyon."—New York Magazine
"A moving and evocative memoir. Moehringer imbues the place and the singular men who frequented it with loving humanity."—Associated Press
"Heart-wrenchingly funny."—USA Today
"The only thing wrong with this terrific debut is that there has to be a closing time."—Newsweek
"Moehringer's book is a homage to the culture of the local pub....Moehringer's lovely evocation of an ordinary place filled with ordinary people gives dignity and meaning to those lost lives, and to his own."—Publishers Weekly
"It's a rare writer who recollects his trials with clarity and dispassion, giving us not voyeurism but a good look at ourselves....[Moehringer] recalls events as disparate as losing his virginity and getting his first newspaper job (at the New York Times) with a newsman's imperative to get the story....Funny, honest, and insightful, The Tender Bar finds universal themes in an unusual upbringing and declares a real love of barroom life without romanticizing it too much."—Booklist
"First-rate storytelling."—Bookmarks Magazine
"J.R. Moehringer's fascinating memoir opens with the premise that men are either good or bad--and his father is not measuring up too well."—AudioFile
"Every so often a memoir comes along that is so rich, captivating, and insightful that it feels more like an epic tale than a mere account of somebody's life. The Tender Bar belongs in that category."—Winston-Salem Journal
"What a stunning memoir it is--heartfelt, overflowing with longing, topped off with joy, despair, and, above all, compassion for the human condition. Moehringer creates a world that is as real as it is hilarious and tragic."—The Pioneer Press (St. Paul)
"Powerful storytelling at its true story best. It's a life-changing work about a changed life, a gentle giant not to be missed."—The Denver Post
"Hugely entertaining and endearing. A loving and clear-eyed portrait of the sort of community that can be as ruinous as it is sustaining. The considerable achievement of The Tender Bar is in the beautifully recreated voices, tall tales and dashed dreams of all the wonderful characters who, unlike the author, never quite managed to make it out of Manhasset--or even bothered to try."—Minneapolis Star-Tribune
"Tart and uncloying like a good gin fizz, a generous pouring-forth of details and dialogue about social classes and the institutions that prop them up. The Tender Bar is quite simply...wunderbar!"—New York Observer
"[An] exquisite memoir...The book, by turns hilarious and poignant, evokes the fascinating characters who become the author's surrogate fathers, as well as his coming of age on a bar stool."—Yale Alumni Magazine
"This vivid, funny, poignant, compassionate, and surprising 100-proof memoir goes down easy and leaves no hangover in its wake....Moehringer's animated portrayals of men with robust hearts, painful secrets, and rampant senses of humor, who find comaraderie and empathy in a sheltering bar, are radiant in their understanding and love"—Speakeasy
"It would have been easy for Moehringer to drift into sentimentality about growing up fatherless. Instead, he took the hard route and wrote the heck out of the thing. Moehringer paints a portrait of his life--and the bar full of men who stepped in to do the job his father couldn't--that is vivid, alive, and painfully honest. It's also pretty darn funny."—American Way
"A straight-up account of masculinity, maturity, and memory that leaves a smile on the face and an ache in the heart."—Kirkus Reviews
"Moehringer keeps you glued to your barstool til last call."—Time Out New York
"A wonderful read...clear-eyed and tough sentiment."—Cleveland Plain Dealer
"Refreshing....The author has an unerring ear for the sights, sounds, and smells."—Best Life
"[The Tender Bar] is a success story."—The Sunday Oregonian
"Moehringer set out to write a memoir trying to explain how much he loves the bar that played such a big role in his life. He succeeded in making us love it as much as he does."—Florida Times-Union
"A good memoir is a survivor's tale, the story of a person who has faced obstacles and made it through well enough to tell it. Moehringer's memoir, better than most, illuminates the fact that every life is a survivor's tale--we made it this far, didn't we? Funny, frank, sad, and bursting with life, The Tender Bar is irresistible."—Rocky Mountain News