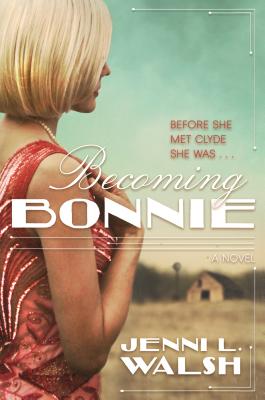 Becoming Bonnie: A Novel
This product is not returnable.
Publication Date:
May 22nd, 2018
Description
Perfect for readers of Paula McClain, Lisa Wingate, and Hazel Gaynor, and fans of Bonnie and Clyde, Breaking Bad and Netflix's The Highwaymen, Jenni L. Walsh's sparkling debut tells the story of Bonnie Parker as it's never been told before—in her own words.

It's the summer of 1927, and Bonnelyn Parker is more likely to belt out a church hymn than sling drinks at an illicit juice joint. She's a sharp girl with plans to overcome her family's poverty, provide for herself, and maybe someday marry her boyfriend, Roy Thornton. But in Cement City, Texas, there aren't many jobs a girl can do.
When Bonnelyn finds work at Doc's, Dallas's newest speakeasy, she finds herself falling hard—for the music, for the freedom, and for a young man with a hint of danger in his smile.
Bonnie is about to meet Clyde Barrow. And her life—like her country—is headed for a crash.
"How do you get from good girl to gangster's moll? Jenni Walsh takes you along for the ride with Bonnelyn Parker in an account so vivid you would think you were there with her."—New York Times bestselling author Lauren Willig
"In Becoming Bonnie, Jenni Walsh delivers an intriguing insight into the life of one half of the infamous duo, Bonnie and Clyde. I look forward to reading more from this new author." —New York Times bestselling author Hazel Gaynor
Praise for Becoming Bonnie: A Novel
"Walsh's debut historical novel brings the Prohibition era, the Great Depression, and American gangsters to life through the personality and circumstances of a notorious moll who starts out as a good girl. Although the story focuses on Bonnie, supporting characters provide further perspectives on the magnetic pull of jazz, illegal booze, and a (short) life on the lam . . . Look forward to the sequel for later exploits of these notorious bandits." --Booklist
"As her new life . . . barrels toward her old one on a collision course, Bonnelyn must decide what name she wants to make for herself. Walsh's rollicking narrative will have readers rooting for Bonnelyn-turned-Bonnie every (dance) step of the way." --Shelf Awareness
"A compelling account of a nation and a life in disarray—readers will feel for Bonnelyn as she finds herself scrabbling for survival in a world turned upside down. How do you go from good girl to gangster's moll? Jenni L. Walsh takes you along for the ride in an account so vivid you would think you were there with her."—New York Times bestselling author Lauren Willig
"In Becoming Bonnie Jenni Walsh delivers an intriguing insight into the life of one half of the infamous duo, Bonnie and Clyde. I look forward to reading more from this new author."--New York Times bestselling author Hazel Gaynor
"Debut author Jenni Walsh deftly pulls the reader into Bonnie's world, and then deeper into her mind, so we see exactly how and when she made her choices—and her bed. I have to admit, I rooted for Bonnie to connect with Clyde all along, because who can resist a handsome, dangerous man who also happens to be your soul mate? Even if it means you'll never be that good girl again. Booze-soaked, southern-fried, and fully immersive, BECOMING BONNIE is a rocking good read." -- Heather Webb, author of Rodin's Lover
"A dazzling and compulsively-readable adventure of self-discovery, with a voice both singular and irresistible. I dare you not to fall in love with Bonnie, and her intoxicating, wholly immersive world."—Lee Kelly, author of A Criminal Magic