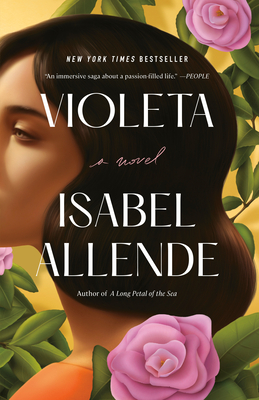 Violeta [English Edition]: A Novel
Publication Date:
January 24th, 2023
Publisher:
Ballantine Books
Usually Ships in 1 to 5 Days
Spanning 100 years, Isabel Allende recounts Violeta's life in letters to her grandson. The author develops each character in Violeta's life — children, lovers, and neighbors. This book flows easily and is hard to put down. Loved it!
February 2022 Indie Next List
Description
NEW YORK TIMES BESTSELLER • This sweeping novel from the author of A Long Petal of the Sea tells the epic story of Violeta Del Valle, a woman whose life spans one hundred years and bears witness to the greatest upheavals of the twentieth century.
"An immersive saga about a passion-filled life."—People
ONE OF THE BEST BOOKS OF THE YEAR: PopSugar, Real Simple, Reader's Digest
Violeta comes into the world on a stormy day in 1920, the first girl in a family with five boisterous sons. From the start, her life is marked by extraordinary events, for the ripples of the Great War are still being felt, even as the Spanish flu arrives on the shores of her South American homeland almost at the moment of her birth.
Through her father's prescience, the family will come through that crisis unscathed, only to face a new one as the Great Depression transforms the genteel city life she has known. Her family loses everything and is forced to retreat to a wild and beautiful but remote part of the country. There, she will come of age, and her first suitor will come calling.
She tells her story in the form of a letter to someone she loves above all others, recounting times of devastating heartbreak and passionate affairs, poverty and wealth, terrible loss and immense joy. Her life is shaped by some of the most important events of history: the fight for women's rights, the rise and fall of tyrants, and ultimately not one, but two pandemics.
Through the eyes of a woman whose unforgettable passion, determination, and sense of humor carry her through a lifetime of upheaval, Isabel Allende once more brings us an epic that is both fiercely inspiring and deeply emotional.
Praise for Violeta [English Edition]: A Novel
Praise for Isabel Allende and A Long Petal of the Sea

"One of the strongest and most affecting works in [Isabel Allende's] long career."—The New York Times Book Review

"Another gift of epic storytelling . . . A Long Petal of the Sea is a love story for these times."—NPR

"A return to the time and setting of the book that jump-started her literary career, The House of the Spirits . . . a page-turning story rich with history."—Los Angeles Times
"A historical love story penned in the lush and propulsive prose familiar to Allende's millions of fans worldwide, it . . . feels excitingly new and unerringly timely for this international superstar of an author."—San Francisco Chronicle

"Love and war shape everything in Allende's sweeping, splendid new novel. . . . This is her best book in years, one she has poured all of her prodigious passion and talent into."—Minneapolis Star-Tribune
"[Allende] writes with surpassing compassion and insight. Her place as an icon of world literature was secured long ago. She will be celebrated, by readers and writers alike, for generations to come."—Khaled Hosseini

"This gorgeous novel, like all the best novels, transports the reader to another time and place and sheds light on the way we live now. Allende is a legend, and this might be her finest book yet."—J. Courtney Sullivan

"Majestic . . . both timeless and perfectly timed for today."—Publishers Weekly (starred review)

"In this transporting novel, Allende is as transcendent and life-affirming as ever."—Esquire