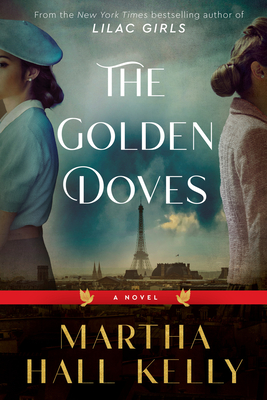 The Golden Doves: A Novel
Publication Date:
April 18th, 2023
Publisher:
Ballantine Books
Usually Ships in 1 to 5 Days
Description
Two female spies risk everything to hunt down an infamous Nazi in this sweeping, profound tale of bravery from the bestselling author of Lilac Girls.

"A riveting story of two brave and amazing women who work in the French resistance during World War II . . . a triumph!"—Lisa Scottoline, New York Times bestselling author of Eternal
American Josie Anderson and Parisian Arlette LaRue are thrilled to be working in the French resistance, stealing so many Nazi secrets that they become known as the Golden Doves, renowned across France and hunted by the Gestapo. Their courage will cost them everything. When they are finally arrested and taken to the Ravensbrück concentration camp, along with their loved ones, a reclusive Nazi doctor does unspeakable things to Josie's mother, a celebrated Jewish singer who joined her daughter in Paris when the world seemed bright. And Arlette's son is stolen from her, never to be seen again.
A decade later the Doves fall headlong into a dangerous dual mission: Josie is working for U.S. Army Intelligence and accepts an assignment to hunt down the infamous doctor, while a mysterious man tells Arlette he may have found her son. The Golden Doves embark on a quest across Europe and ultimately to French Guiana, discovering a web of terrible secrets, and must put themselves in grave danger to finally secure justice and protect the ones they love.
Martha Hall Kelly has garnered acclaim for her stunning combination of empathy and research into the stories of women throughout history and for exploring the terrors of Ravensbrück. With The Golden Doves, she has crafted an unforgettable story about the fates of Nazi fugitives in the wake of World War II—and the unsung female spies who risked it all to bring them to justice.
Praise for The Golden Doves: A Novel
"[A] riveting story of two brave and amazing women who work in the French Resistance during World War II . . . a triumph!"—Lisa Scottoline, New York Times bestselling author of Eternal
"Breathtakingly told . . . Add this page-turner to the canon of female freedom fighters to whom we owe so much and who would go unrecognized were it not for authors like Kelly."—Alka Joshi, New York Times bestselling author of The Henna Artist
"I gasped aloud more times than I can count . . . and you will, too!"—Sarah McCoy, New York Times bestselling author of Mustique Island
"A pulse-pounding tale of vengeance, grief, mystery, and family."—Kristin Harmel, New York Times bestselling author of The Forest of Vanishing Stars
"The Golden Doves is breathtaking—both in the beauty of its language and the twists of its high-stakes plot."—Allison Pataki, New York Times bestselling author of The Magnificent Lives of Marjorie Post
"Meticulously researched, hauntingly told, and inspired by real events that span generations and continents."—Patti Callahan Henry, New York Times bestselling author of The Secret Book of Flora Lea
"Sensational . . . a must-read for all readers who love history."—Adriana Trigiani, New York Times bestselling author of The Good Left Undone
"This timely, passionately researched, and intricately woven story of friendship, motherhood, and resistance will haunt you long after you've turned the final page."—Stephanie Dray, New York Times bestselling author of The Women of Chateau Lafayette
"Literary perfection . . . explores the lengths we'll go in the name of redemption—and the risks we'll take for love."—Kristy Woodson Harvey, New York Times bestselling author of The Wedding Veil