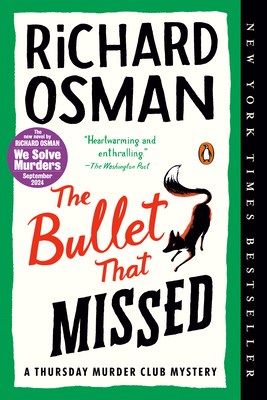 The Bullet That Missed: A Thursday Murder Club Mystery
Publication Date:
June 20th, 2023
Usually Ships in 1 to 5 Days
The third installment of the Thursday Murder Club is every bit as enjoyable as the first two. In The Bullet That Missed, the aging sleuths investigate the apparent murder of a TV presenter whose body was never found. Highly recommended!
October 2022 Indie Next List
Description
INSTANT NEW YORK TIMES BESTSELLER
A new mystery is afoot in the third book in the Thursday Murder Club series from million-copy bestselling author Richard Osman. 
"The quartet of aging amateur sleuths…remain wonderful company," —the New York Times Book Review
 
"The Bullet That Missed hits on every front." —the Wall Street Journal

It is an ordinary Thursday, and things should finally be returning to normal. Except trouble is never far away where the Thursday Murder Club are concerned. A decade-old cold case—their favorite kind--leads them to a local news legend and a murder with no body and no answers.
Then a new foe pays Elizabeth a visit. Her mission? Kill or be killed. Suddenly the cold case has become red hot.
While Elizabeth wrestles with her conscience (and a gun), Joyce, Ron, and Ibrahim chase down the clues with help from old friends and new. But can the gang solve the mystery and save Elizabeth before the murderer strikes again?
From an upmarket spa to a prison cell complete with espresso machine to a luxury penthouse high in the sky, this third adventure of the Thursday Murder Club is full of the cleverness, intrigue, and irresistible charm that readers have come to expect from Richard Osman's bestselling series.
Praise for The Bullet That Missed: A Thursday Murder Club Mystery
Praise for The Bullet That Missed:
"Osman concocts a satisfyingly complex whodunit full of neat twists and wrong turns. But unlike most crime novelists, he ensures his book's strength and momentum stem not from its plot or its thrills but rather its perfectly formed characters. Once again, the quartet of friends makes for delightful company… Heartwarming and enthralling. 'They carried a kind of magic, the four of them,' a policeman muses. That magic is still there in abundance."
—Washington Post
"The Bullet That Missed hits on every front. Its quandaries stymie, its solutions thrill, its banter is worth reciting and its characters exemplify an admirable camaraderie. One can only hope that the Thursday Murder Club's next outing appears before long."
—Wall Street Journal
"The Thursday Murder Club is back, and that should make everyone happy — except, of course, murderers. Richard Osman's engaging series about a group of crime-solving retirees has delighted readers since the first book. The Thursday Murder Club, an international bestseller, was funny, original, baffling, poignant and thoroughly engaging. That's a high bar to set from the get-go, but Osman has easily achieved it in subsequent books… This book is as delightful as the others. A remarkable achievement, Osman up there effortlessly balancing on that very high bar."
—Minneapolis Star-Tribune
"Not to be missed."
—Parade
"Charming."
—People
"The mysteries are complex, the characters vivid, and the whole thing is laced with warm humor and—remarkably, considering the body count—good feeling. Your next must-read mystery series."
—Kirkus, starred review
"Bestseller Osman's diverting third Thursday Murder Club mystery (after 2021's The Man Who Lived Twice) delivers laughs along with a nicely woven plot....The pace is breezy, the characters are intelligent and varied in their interests and backgrounds, and the humor is often pitched to readers who understand the vagaries of getting older. Osman reliably entertains."
—Publishers Weekly
"It's charming and, as always, will leave you guessing the murderer until the very end."
—Town and Country