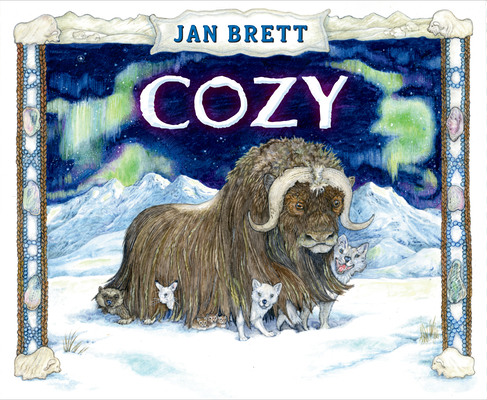 Cozy
Publication Date:
October 20th, 2020
Publisher:
G.P. Putnam's Sons Books for Young Readers
Usually Ships in 1 to 5 Days
Description
A New York Times Bestseller!
A group of clever animals find an unusual but warm and furry home during Alaska's long winter in Jan Brett's newest snowy adventure.
Cozy is the softest musk ox in Alaska, with the warmest fur you ever did feel. When a storm hits while he's separated from his family, he starts to feel lonely—but not for long. As the snow piles up, animals start to notice just how warm and cozy Cozy really is! One mama lemming has a bright idea . . . maybe the best place to spend the winter is under Cozy's fur!
As more and more animals burrow in, Cozy adds to the house rules: quiet voices, gentle thumping, claws to yourself, no biting, and no pouncing. That seems easy enough . . . until the lemmings, snowshoe hare, snowy owl, arctic fox, and wolverine begin to bicker. Luckily, signs of spring soon appear, and that means Cozy can find his herd and his new friends can head to their summer homes. But not before promising to get cozy with Cozy next year!
Jan Brett brings a new lovable character to life through this gorgeous tale of sharing, friendship, and living in harmony.
 
Snuggle up with all of Jan Brett's snowy treasures: The Mitten, The Hat, The Snowy Nap, The Three Snow Bears , and The Trouble With Trolls.
Praise for Cozy
A New York Times Bestseller
An ALA Notable Audio Book
"This moving tale of gentle kindness serves as a clarion call for anyone searching for a book about creating your own community in times of trial. . . For readers who haven't a musk ox of their own to snuggle up with, this tale proves just as cozy." -Kirkus Reviews
"While the story is fanciful, it takes into account the real-life temperaments and habits of tundra creatures. As in earlier Brett tales, detailed artwork suggests the finesse of scientific illustration as side-panel vignettes hint at what's to come. During a period in which some families are spending more time together in tight spaces, the comforting live-and-let-live message is timely." -Publishers Weekly
"As the story progresses, more and more animals take shelter with Cozy and each new addition requires another house rule. . . ­Children will love the cumulative growth of an unusual home, and, as usual, the illustrations alone make this a safe bet for Brett-friendly collections." -School Library Journal