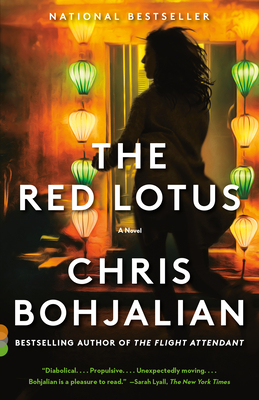 The Red Lotus: A Novel (Vintage Contemporaries)
Publication Date:
January 5th, 2021
Usually Ships in 1 to 5 Days
Description
NATIONAL BESTSELLER • From the New York Times bestselling author of The Flight Attendant comes a twisting story of love and deceit: an American man vanishes on a rural road in Vietnam, and his girlfriend follows a path that leads her home to the very hospital where they met.
Alexis and Austin don't have a typical "meet cute"—their first encounter involves Alexis, an emergency room doctor, suturing a bullet wound in Austin's arm. Six months later, they're on a romantic getaway in Vietnam: a bike tour on which Austin can show Alexis his passion for cycling, and can pay his respects to the place where his father and uncle fought in the war. But then Austin fails to return from a solo ride. Alexis's boyfriend has vanished, the only clue left behind a bright yellow energy gel dropped on the road.
As Alexis grapples with this bewildering loss, she starts to uncover a series of strange lies that force her to wonder: Where did Austin go? Why did he really bring her to Vietnam? And how much danger has he left her in? Set amidst the adrenaline-fueled world of the emergency room, The Red Lotus is a global thriller about those who dedicate their lives to saving people—and those who peddle death to the highest bidder.
Look for Chris Bohjalian's new novel, The Lioness!
Praise for The Red Lotus: A Novel (Vintage Contemporaries)
ONE OF THE BEST BOOKS OF THE YEAR:
THE FREE LANCE-STAR • AMAZON • BOOKBUB
"Diabolical. . . . Propulsive. . . . Unexpectedly moving. . . . Bohjalian is a pleasure to read." —The New York Times Book Review
"A tense and timely thriller." —People
"Full of surprises. . . . Unexpected revelations extend to the final sentence." —The Wall Street Journal
 
"The perfect mystery." —Travel + Leisure
"Both prescient and diverting. Bohjalian specializes in well-researched, topical thrillers with complex plots and flawed but principled heroes." —The Washington Post
 
"A mesmerizing tale, a timely sociopolitical-business story with human frailties, illusions, disillusions, and strengths firmly at its center." —The Seattle Review of Books
 
"Ominous. . . . An edge-of-your-seat thriller. . . . Oh-so-timely." —St. Louis Post-Dispatch

"This gripping mystery takes all kinds of thrilling twists and turns. A great read." —Minneapolis Star-Tribune
"Bohjalian can always be counted on to deliver an engrossing plot and characters who keep you on the edge of your seat just as much." —The Free Lance-Star
 
"[Bohjalian] possesses one of the best-tuned antennas in contemporary fiction for absorbing the troubles, forces, terrors, fortunes, and, yes, plagues that turn the world. . . . Bohjalian's plots race at the speed of a 747, but there's no skimming in the complexity or depth of his subject matter [or] precision of his research." —Interview

"A bio-horror tale à la The Andromeda Strain and The Hot Zone." —Bookreporter.com
 
"You'll keep flipping pages, discover new complex characters, see the mysterious situation from different points of view—and you'll be surprised at each well-plotted turn." —Literary Hub
 
"A globe-spanning adventure, one that combines international intrigue with the high-adrenaline, high-pressure realm of the big city emergency room. It's a book that sets the healers against those who would do harm, the selfless against the selfish." —The Maine Edge
 
"With his usual strong plotting and well-conceived characters, Bohjalian's story unfolds slowly and with terrific pacing." —The Providence Journal
 
"A must-read global thriller. . . . Hits Bohjalian's trademark notes of intricate plot, in-depth research, high tension, and unexpected turns—with a very timely dose of pathogens and biological weapons—in a twisting story of love and deceit." —Mystery Tribune
 
"[An] intricately plotted thriller. . . . A diabolical plot. . . . Each character, including secondary players, is carefully drawn, and Bohjalian keeps the tension high all the way to the surprising finale." —Publishers Weekly
 
"Tantalizing. . . . Bohjalian manages to keep us guessing and turning pages until the very end." —Kirkus Reviews
 
"In this tightly drawn, steadily hair-raising thriller, Bohjalian once again demonstrates his keen affinity for strong, capable female protagonists." —Booklist