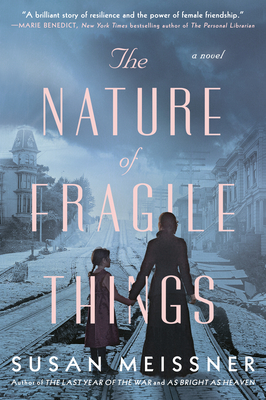 The Nature of Fragile Things
Publication Date:
January 4th, 2022
Usually Ships in 1 to 5 Days
Description
April 18, 1906: A massive earthquake rocks San Francisco just before daybreak, igniting a devouring inferno. Lives are lost, lives are shattered, but some rise from the ashes forever changed.
Sophie Whalen is a young Irish immigrant so desperate to get out of a New York tenement that she answers a mail-order bride ad and agrees to marry a man she knows nothing about. San Francisco widower Martin Hocking proves to be as aloof as he is mesmerizingly handsome. Sophie quickly develops deep affection for Kat, Martin's silent five-year-old daughter, but Martin's odd behavior leaves her with the uneasy feeling that something about her newfound situation isn't right.
Then one early-spring evening, a stranger at the door sets in motion a transforming chain of events. Sophie discovers hidden ties to two other women. The first, pretty and pregnant, is standing on her doorstep. The second is hundreds of miles away in the American Southwest, grieving the loss of everything she once loved.
The fates of these three women intertwine on the eve of the devastating earthquake, thrusting them onto a perilous journey that will test their resiliency and resolve and, ultimately, their belief that love can overcome fear.
From the acclaimed author of The Last Year of the War and As Bright as Heaven comes a gripping novel about the bonds of friendship and mother love, and the power of female solidarity.
Praise for The Nature of Fragile Things
Praise for The Nature of Fragile Things
"A terrific tale that takes us on a harrowing cable-car ride through early 20th century San Francisco, where dark secrets—like the city itself—crack wide open, forcing our world-weary heroine to confront the devastation done by the lies she's been told and by the lies she's still telling..."—Stephanie Dray, author of America's First Daughter and The Women of Chateau Lafayette
 
"A brilliant story of resilience and the power of female friendship."—Marie Benedict, New York Times bestselling author of The Mystery of Mrs. Christie
 
"A mysterious web of lies, love, and loss that accelerates toward the inevitable: the great San Francisco earthquake of 1906."—Kristin Harmel, author of The Book of Lost Names
 
"A riveting tale set in 1906 San Francisco. These fascinating characters' hidden pasts and dark secrets collide, entwine, and explode—and that's before the earthquake hits."—Greer Macallister, author of The Magician's Lie and The Arctic Fury
 
"In the ashes of San Francisco's greatest tragedy, one remarkable woman finds love, friendship, and the means to rebuild. Historical fiction that reads with the urgency and suspense of a thriller."—Lauren Willig, New York Times bestselling author of The Summer Country
 
"Driven by the unstoppable force of the three intriguing women at its heart, this is a novel to savor, and one to share with all the women in your life whom you admire."—Hazel Gaynor, New York Times bestselling author of When We Were Young & Brave
"Meissner spins an exceptional story….Unexpected and masterfully crafted twists and turns abound….Ingeniously plotted and perfectly structured, this captivates from beginning to end."—Publisher's Weekly (starred review)