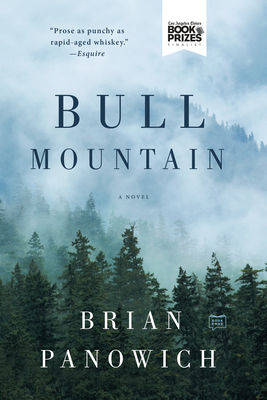 Bull Mountain
Publication Date:
June 21st, 2016
Publisher:
G.P. Putnam's Sons
Usually Ships in 1 to 5 Days
Set in the mountainous region of northern Georgia and reminiscent of Winter's Bone by Daniel Woodrell, this debut is a potent tale about land and lineage, love and loyalty, livelihood and the law, and life itself. Panowich's words are fresh and clean, hard and dirty; he knows what he is writing about. The book's first chapter - a short story in its own right - is worth the price of admission to Bull Mountain. Climb on up and enjoy the view. Just watch your step!
July 2015 Indie Next List
Description
Winner of the ITW Thriller Award for Best First Novel
From a remarkable voice in Southern fiction comes a multigenerational saga of crime, family, and vengeance.
Clayton Burroughs comes from a long line of outlaws. For generations, the Burroughs clan has made its home on Bull Mountain in North Georgia, running shine, pot, and meth over six state lines, virtually untouched by the rule of law. To distance himself from his family's criminal empire, Clayton took the job of sheriff in a neighboring community to keep what peace he can. But when a federal agent with the Bureau of Alcohol, Tobacco, and Firearms shows up at Clayton's office with a plan to shut down the mountain, his hidden agenda will pit brother against brother, test loyalties, and could lead Clayton down a path to self-destruction.
In a sweeping narrative spanning decades and told from alternating points of view, the novel brilliantly evokes the atmosphere of the mountain and its inhabitants: forbidding, loyal, gritty, and ruthless. A story of family—the lengths men will go to protect it, honor it, or in some cases destroy it—Bull Mountain is an incredibly assured debut that heralds a major new talent in fiction.

"Panowich stamps words on the page as if they've been blasted from the barrel of a shotgun, and as with a shotgun blast, no one is safe from the scattered fragments of history that impale the people of Bull Mountain."—Wiley Cash, New York Times-bestselling author of This Dark Road to Mercy
Praise for Bull Mountain
Praise for Bull Mountain
"[Brian Panowich] pulls off [a] daunting undertaking with astounding success...The storytelling is mesmerizing, with virtually every chapter set in a different timeline and focused on a single character, but the sense of immediacy carries over into each era.  And while the violence is shocking in its coldhearted brutality, it's as aesthetically choreographed as any ballet."—Marilyn Stasio, The New York Times Book Review
"Panowich has crafted a satisfying and smartly constructed book whose time-shifting sequences build suspense even as they parcel out telling revelations. Once events are in full play, there's no turning back."—The Wall Street Journal
"[Panowich storms] onto the scene with an epic southern tale that establishes him as a new voice for southern writers....An unabashed literary page-turner, Bull Mountain, takes readers along for a ride full of well timed twists and turns, and the shocking family secret that causes the inevitable climax....one of the best multi-generational family sagas in years."—Huffington Post
"You'd be hard pressed to believe Bull Mountain is the work of a debut author.  What Panowich puts together is more than a history of family, but a chronology of the violence perpetrated for nearly a century in maintaining an empire built on bootleg hooch and drugs – not in the name of power, women, or money, but of home....Panowich's Southern grit is stubborn and gets into every crevice...he tears apart the hardened, Southern man so popular in rural noir. Even more, he does so while maintaining that those characters have a moral, human center. "—The Los Angeles Review of Books
"A brilliant debut novel...extraordinary."—Atlanta Magazine
"Dazzling...Panowich tells his story in lengthy, nicely worked chapters reminiscent of John Steinbeck, who did his own brother-versus-brother story in East of Eden. Both write in a flowing, textured, understated style that is such a pleasure to read we don't realize we're being set up for a series of uppercuts. They come in revelations accompanied by gunfire. Read and recommend to anyone who follows country noir or savors delicious prose."—Booklist (starred review)
"Panowich plants his Bull Mountain squarely on those same shelves among the classic works of Daniel Woodrell, Larry Brown and James Lee Burke. It's that good....A worthy addition to the growing canon of dope and deadbeat Southern "country noir.'"—Shelf Awareness
"Prose as punchy as rapid-aged whiskey."—Esquire
"Part Dashiell Hammett, part Hamlet...The story of a familial criminal empire embedded in the mountains of North Georgia, [Bull Mountain] is a book that never lets a complicated plot and structure get in the way of what, I believe, is Panowich's greatest gift—the ability to build layered, authentic characters and the world in which they live....Graceful prose, compelling characters, and a true sense of place [make this] gripping reading."—Augusta Chronicle
"The author delivers characters with depth, a lushly described setting, and an intergenerational battle between good and evil. After many twists and turns, the story ends with a welcome surprise....His book will appeal to readers of Wiley Cash, Ron Rash, and ­Daniel ­Woodrell for the way in which it brings the landscape and culture of rural Appalachia to life."—Library Journal
"Hillbilly noir goes literary in [Bull Mountain]...Panowich deftly delves into "something deeper than bone" between fathers and sons, between the land and its people."—Kirkus Reviews
"Brian Panowich had me at the first word of his spectacular debut novel, 'Family,' and he held me until the very last page.  Bull Mountain is a sprawling, gritty, violent, tribal inter-generational crime epic with a deeply rooted sense of place and an gut-punch ending I didn't see coming.  Expect to see Bull Mountain on the short-list of many 'Best First Novel' awards."—New York Times­ bestselling author C. J. Box
"Holy cow, what a book!  It moves like a bullet. Mr. Panowich knows his mountains, his whiskey, his dope and his meth. And boy, does he know his characters, who are drawn so vividly I can't forget them. I can't recommend this novel enough—it will thrill fans of Daniel Woodrell and Larry Brown as well as fans of Dennis Lehane and William Gay. First rate, first rate!"—New York Times bestselling author Tom Franklin
"The gripping, witty Bull Mountain is not only a fine debut, but a fine mystery novel, period.  Panowich may even have carved out his own subgenre of hillbilly noir.  I can't wait to see what he comes up with next."—New York Times bestselling author John Connolly
"Bull Mountain is a stone gas and a stone winner! It's brother-versus-brother in the dope-damned South.  This first novel has it all:  moonshine, maryjane and mayhem! Read this book now—and succumb to a startling new talent."—James Ellroy, author of Perfidia
"Bull Mountain is a stunningly polished debut novel. Panowich's tale of family, of land, of crimes large and small, of right and wrong, is so vivid that the reader can almost see the blood in the soil and smell the violence on the wind."—New York Times bestselling author Reed Farrel Coleman
"The resurgence of American heartland noir gets a strong new prose soldier with Brian Panowich's debut novel Bull Mountain, a tense, multi-generational tale of life on the hard side, a cops vs. bad guys story with subtly interwoven family sagas, romance and redemption. Panowich is a rising author to watch."—James Grady, author of Six Days of the Condor
"With echoes of Faulkner's Sanctuary and McCarthy's No Country for Old Men, Brian Panowich's debut novel is Cain and Abel for a sticky South.  Strong as bootleg whiskey, smooth as the action of a well-oiled pistol, Bull Mountain is a beautiful, harrowing debut—and so much fun, it ought to be against the law."—Aaron Gwyn, author of Wynne's War
"Dug into the landscape like a grave, Bull Mountain is a novel that resonates with a stirring combination of grace and brutality, of beauty and loss. In the Burroughs family, Brian Panowich creates a clan with all the fire and depth of Faulkner's Henry Sutpen storming through a Steve Earle song."—Steve Weddle, author of Country Hardball