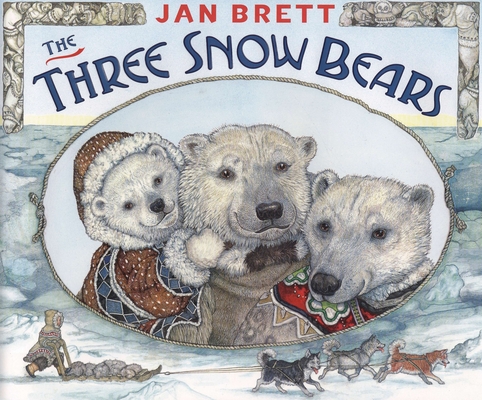 The Three Snow Bears
Publication Date:
September 13th, 2007
Publisher:
G.P. Putnam's Sons Books for Young Readers
Usually Ships in 1 to 5 Days
Description
Jan Brett's #1 New York Times bestseller is the snowiest twist on Goldilocks and the Three Bears you could ask for!
When Aloo-ki glances up from fishing and sees her sled dogs floating off on an ice floe, she races after them. She comes upon an igloo with no one home and goes inside.
Turns out the polar bear family who lives there is out walking while their breakfast cools off. Aloo-ki eats some soup, tries on their boots, and finally crawls into the smallest bed for a nap. Meanwhile, Papa, Mama, and Baby Bear see her dogs adrift, swim out to rescue them and return home to find Aloo-ki fast asleep in Baby Bear's bed.
Jan traveled to the far North to meet the Inuit people and see the amazing land where they live. Dramatic illustrations capture the shimmering ice, snow and deep blue seas of the Arctic, and when Jan adds a raven-haired Inuit girl and her appealing huskies, an endearing family of polar bears, and playful Arctic animals in the borders, the result is one of her most beautiful picture books.
The decorative Inuit patterns and clothing Jan uses throughout are sure to attract adult fans and collectors while children will want to listen to and look at this exciting version of a well-loved story over and over again.
Snuggle up with all of Jan Brett's snowy treasures: The Mitten, The Hat, The Snowy Nap, Cozy, and The Trouble With Trolls.
Praise for The Three Snow Bears
"Brett presents the Goldilocks story in simple prose, altering it only slightly to accommodate the Arctic setting. The stunning watercolor-and-gouache illustrations, however, provide the sense of place that the words do not. Brett creates a strikingly beautiful blue-and-gray–toned world of ice populated with thickly furred creatures and accented with Inuit motifs. The intricately detailed, multi-paneled spreads depict the snow bears rescuing Aloo-ki's dogs while Aloo-ki explores their igloo. Children and adults alike will pore over each page, relishing the richness of Brett's artwork." —Kirkus Reviews
"Set against a background rendered as chilly blocks of ice, Brett's trademark border panels unfold the simultaneous story of the bears, who rescue the stranded dog team even as Aloo-ki makes free with their breakfast and home comforts. Kids will enjoy the variations on a nursery room standard, although the main draw is, as usual, Brett's characteristically detailed art. She pays loving attention to folkways, attiring the bears and other animals in furry parkas with geometric Inuit designs and furnishing the igloo with implements crafted in a native style." —Publishers Weekly