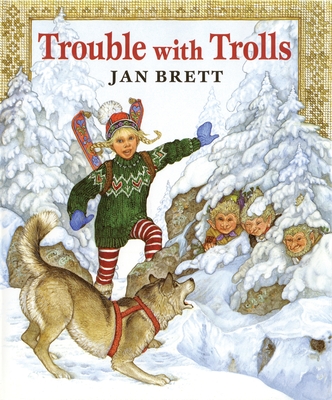 Trouble with Trolls
Publication Date:
October 21st, 1992
Publisher:
G.P. Putnam's Sons Books for Young Readers
Description
Trolls sure know how to make trouble, but Treva is too smart and wily to fall for their tricks!
Treva's trouble with trolls begins when she climbs Mount Baldy with her dog Tuffi. The trolls who live there long for a dog, and they try to kidnap him.
But Treva is brave and quick-thinking.
She outwits one troll after another until she reaches the very top of the mountain, where five trolls are waiting--and they want her dog! From underground to mountain peak, Jan Brett's story is filled with adventure and eye-catching detail.
About the Author
With over thirty four million books in print, Jan Brett is one of the nation's foremost author illustrators of children's books. Jan lives in a seacoast town in Massachusetts, close to where she grew up. During the summer her family moves to a home in the Berkshire Hills of Massachusetts.
As a child, Jan Brett decided to be an illustrator and spent many hours reading and drawing. She says, "I remember the special quiet of rainy days when I felt that I could enter the pages of my beautiful picture books. Now I try to recreate that feeling of believing that the imaginary place I'm drawing really exists. The detail in my work helps to convince me, and I hope others as well, that such places might be real."
As a student at the Boston Museum School, she spent hours in the Museum of Fine Arts. "It was overwhelming to see the room-size landscapes and towering stone sculptures, and then moments later to refocus on delicately embroidered kimonos and ancient porcelain," she says. "I'm delighted and surprised when fragments of these beautiful images come back to me in my painting."
Travel is also a constant inspiration. Together with her husband, Joe Hearne, who is a member of the Boston Symphony Orchestra, Jan visits many different countries where she researches the architecture and costumes that appear in her work. "From cave paintings to Norwegian sleighs, to Japanese gardens, I study the traditions of the many countries I visit and use them as a starting point for my children's books."
Praise for Trouble with Trolls
"A Scandinavian girl must use her wits to outsmart a bunch of pesky trolls in Brett's latest picture book. . . . Brett's sumptuous paintings are typically replete with detail of landscape and costume, this time vividly capturing Scandinavian mountains and villages. . . . A wintry winner with a sunny glow."—Publishers Weekly
"With the fine details that have become her trademark, Brett tells two stories at the same time: the child's encounters with the trolls appear on the top three-fourths of each spread, and a cross-section of their abode occupies the bottom. A humorous subplot involves a curious hedgehog. Set against a wintery, snow-capped background, the saturated colors seem to jump off the page. As always, Brett does a remarkably realistic job of depicting clothing and the natural landscape."—School Library Journal