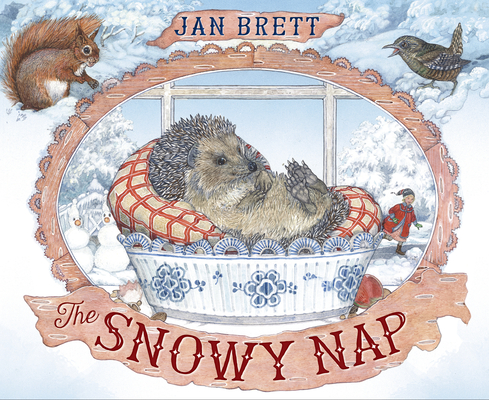 The Snowy Nap
Publication Date:
October 16th, 2018
Publisher:
G.P. Putnam's Sons Books for Young Readers
Usually Ships in 1 to 5 Days
Description
In this instant winter classic, Jan Brett's Hedgie tries to stay awake so he doesn't miss out on all the snowy fun his friends are having.
A chill is in the air, and as Hedgie trundles around the farm all his friends tell him of the winter-time fun he will miss as he hibernates: Icicles decorating the chicken coop! Lisa making snowmen! The pond turned to slippery ice!
It sounds so amazing that Hedgie decides to stay awake instead of going to his burrow. But then, a snowstorm starts. Luckily, Lisa finds him and brings him to her home, so Hedgie gets to see the wonders of winter from inside the cozy house.
From the creator of winter classics like The Mitten, The Animals' Santa, and The Three Snow Bears comes another seasonal adventure that is sure to warm the heart.
Praise for The Snowy Nap
A New York Times Bestseller
"Brett's watercolor-and-gouache illustrations feature both soft and bright colors, with fine lines and copious textures to peruse. . . Between the opulent farmhouse with decorative plates on the walls, the sleigh with sleigh bells, and the lack of adults, combined with a comfortably heated interior, this is a winter idyll." --Kirkus Reviews
"[A] fetching companion to The Hat. . . Brett's trademark patterned borders both supplement and forecast the action playing out in meticulously detailed scenarios." --Publishers Weekly