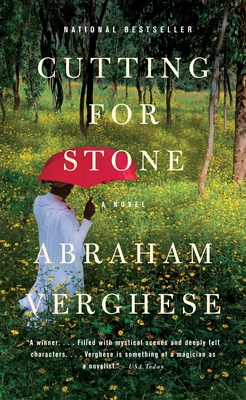 Cutting for Stone
Publication Date:
January 26th, 2010
Usually Ships in 1 to 5 Days
Cutting for Stone resists easy categorization -- it is just as much the chronicle of a bond between twin brothers and family as it is a book about medicine, or a story of grace. Verghese's carefully drawn characters are compelling and unforgettable -- this is a book you will have to share with others, if you can bear parting with your copy.
February 2009 Indie Next List
This sumptuous tale is one of lives, fates, and destinies, how things separate are connected and how those connected are separate. Birth and death are at the outset - and then, pulsingly, heartfully, carry on companionably all the way through. Lifelong wonderings and longings bridge the geography and time spanned. This is like one of the great life-and-death, myth-and-legend sagas with war, famine, exile, love, betrayal, great tenderness and compassion, a cast
of characters, and the work of some larger powers all going on.
Summer '10 Reading Group List
Description
NATIONAL BESTSELLER • From the author of The Covenant of Water: A beautifully written, page-turning family saga of Ethiopia and America, doctors and patients, exile and home. • "Filled with mystical scenes and deeply felt characters.... Verghese is something of a magician as a novelist." —USA Today
Marion and Shiva Stone are twin brothers born of a secret union between a beautiful Indian nun and a brash British surgeon. Orphaned by their mother's death and their father's disappearance, bound together by a preternatural connection and a shared fascination with medicine, the twins come of age as Ethiopia hovers on the brink of revolution.
Moving from Addis Ababa to New York City and back again, Cutting for Stone is an unforgettable story of love and betrayal, medicine and ordinary miracles—and two brothers whose fates are forever intertwined.
 
This sweeping, emotionally riveting novel that "shows how history and landscape and accidents of birth conspire to create the story of a single life" (Los Angeles Times).
Praise for Cutting for Stone
ONE OF THE ATLANTIC'S 15 BOOKS YOU WON'T REGRET RE-READING
"A winner. . . . Filled with mystical scenes and deeply felt characters. . . . Verghese is something of a magician as a novelist."
—USA Today
 
"A masterpiece. . . . Not a word is wasted in this larger-than-life saga. . . . Verghese expertly weaves the threads of numerous story lines into one cohesive opus. The writing is graceful, the characters compassionate and the story full of nuggets of wisdom."
—San Francisco Chronicle
 
"Lush and exotic. . . . The kind [of novel] Richard Russo or Cormac McCarthy might write. . . . Shows how history and landscape and accidents of birth conspire to create the story of a single life. . . . Verghese creates this story so lovingly that it is actually possible to live within it for the brief time one spends with this book. You may never leave the chair."
—Los Angeles Times
 
"Vivid. . . . Cutting for Stone shines."
—The Washington Post Book World
 
"Absorbing, exhilarating. . . . If you're hungry for an epic . . . open the covers of Cutting for Stone, [then] don't expect to do much else."
—The Seattle Times
 
"Wildly imaginative. . . . Verghese has the rare gift of showing his characters in different lights as the story evolves, from tragedy to comedy to melodrama, with an ending that is part Dickens, part Grey's Anatomy. The novel works as a family saga, but it is also something more, a lovely ode to the medical profession."
—Entertainment Weekly
 
"Compelling. . . . Readers will put this novel down at book's end knowing that it will stick with them for a long time to come."
—St. Louis Post-Dispatch
 
"The novel is full of compassion and wise vision. . . . I feel I changed forever after reading this book, as if an entire universe had been illuminated for me. It's an astonishing accomplishment to make such a foreign world familiar to a reader by the book's end."
—Sandra Cisneros, San Antonio Express-News
 
"Tremendous. . . . Vivid and thrilling. . . . I feel lucky to have gotten to read it."
—Atul Gawande
 
"The first novel from physician Verghese displays the virtues so evident in his bestselling and much-lauded memoirs. He has a knack for well-structured scenes, a passion for medicine and a gift for communicating that passion."
—Cleveland Plain-Dealer
 
"Fantastic. . . . Written with a lyrical flair, told through a compassionate first-person point of view, and rich with medical insight and information, [Cutting for Stone] makes for a memorable read."
—Houston Chronicle
 
"Vastly entertaining and enlightening."
—Tracy Kidder