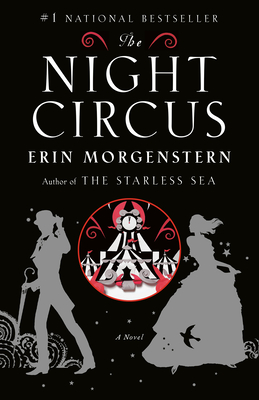 The Night Circus: A Novel
Publication Date:
July 3rd, 2012
Usually Ships in 1 to 5 Days
The Night Circus can be described in so many ways; It's a love story, a mystery, a fairy tale. However one describes it, it is definitely an exercise in imagination of the finest type. Share the amazement! You will become consumed by this story until the very last word. This is the type of book that should be debated over cups of coffee-grown-cold, long, long into the night! Highly recommended.
Fall '12 Reading Group List
This elegant debut is a striking example of a nostalgic yet modern fairy tale. When two competing magicians lay a wager as to which can mold the more powerful protege, they opt to use a fantastical traveling wonderland -- The Night Circus -- as the venue for the competition. What is meant to be a battle of magical skills evolves into something much deeper as apprentices Celia and Marco enchant not only the circus around them, but also each other. The real conflict arises when the two realize how the competition is meant to end and they set about trying to change their predestined fate. I adored diving into Morgenstern's mesmerizing world and mourned when I reached the end.
September 2011 Indie Next List
Description
#1 NATIONAL BESTSELLER • Two starcrossed magicians engage in a deadly game of cunning in the spellbinding novel that captured the world's imagination. • "Part love story, part fable ... defies both genres and expectations." —The Boston Globe
The circus arrives without warning. No announcements precede it. It is simply there, when yesterday it was not. Within the black-and-white striped canvas tents is an utterly unique experience full of breathtaking amazements. It is called Le Cirque des Rêves, and it is only open at night.
But behind the scenes, a fierce competition is underway: a duel between two young magicians, Celia and Marco, who have been trained since childhood expressly for this purpose by their mercurial instructors. Unbeknownst to them both, this is a game in which only one can be left standing. Despite the high stakes, Celia and Marco soon tumble headfirst into love, setting off a domino effect of dangerous consequences, and leaving the lives of everyone, from the performers to the patrons, hanging in the balance.
Praise for The Night Circus: A Novel
"Magical. Enchanting. Spellbinding. Mesmerizing." —Associated Press
"Erin Morgenstern has created the circus I have always longed for and she has populated it with dueling love-struck magicians, precocious kittens, hyper-elegant displays of beauty and complicated clocks. This is a marvelous book." —Audrey Niffenegger, author of The Time Traveler's Wife

"Get ready to be won over. . . . Part love story, part fable, and a knockout debut. . . . So sparklingly alive, you'll swear the pages are breathing in your hands. . . . The Night Circus defies both genres and expectations." —The Boston Globe

"A riveting debut. The Night Circus pulls you into a world as dark as it is dazzling, fully-realized but still something out of a dream. You will not want to leave it." —Téa Obreht, author of The Tiger's Wife
 
"The Night Circus is the real deal, the kind of novel that will appeal to romantics, history buff, circus aficionados, mystery fans, and lovers of a good story. . . . Steeped in circus lore, filled with evocative scenes of magic and illusion, enriched by characters as varied as the clockmaker who crafted the circus's iconic timepiece . . . The Night Circus is worth staying up for." —Bookreporter

"One of the best books I have ever read."  —Brunonia Barry, author of The Lace Reader
 
"[A] few pages in . . . and you know you are in the presence of an extraordinary storyteller." —The Daily Beast
 
"Echoing the immense pleasure of Susanna Clarke's Jonathan Strange & Mr. Norrell, The Night Circus presents a sprightly version of 19th-century English magic. . . . A love story for adults that feels luxuriously romantic." —The Washington Post

"Dark and extravagantly imagined." —People
 
"Pure pleasure. . . . Erin Morgenstern is a gifted, classic storyteller, a tale-teller, a spinner of the charmed and mesmerizing—I had many other things I was supposed to be doing, but the book kept drawing me back in and I tore through it. You can be certain this riveting debut will create a group of rêveurs all its own." —Aimee Bender, author of The Particular Sadness of Lemon Cake

"[Morgenstern] employs her supple prose to conjure up a series of wonders: A maze made of clouds, a ship of books floating on a sea of ink, a tent that seems to contain a vast desert." —Salon

"Reading this novel is like having a marvelous dream, in which you are asleep enough to believe everything that is happening, but awake enough to relish the experience and understand that it is magical." —Newsday