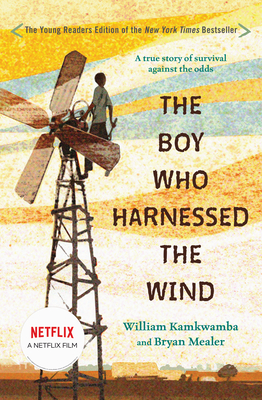 The Boy Who Harnessed the Wind: Young Readers Edition
Publication Date:
January 5th, 2016
Publisher:
Rocky Pond Books
Usually Ships in 1 to 5 Days
The Boy Who Harnessed the Wind is wonderful on so many levels -- an introduction to village life in Malawi, a funny and inspiring memoir and, above all, a shining example of the capacity of books to change lives. I can't stop thinking and talking about it.
October 2009 Indie Next List
This is the heartwarming story of how one 14-year-old Malawian boy, unable to attend school, educated himself about electricity and learned how to make windmills. His accomplishment ended the cycle of drought and starvation-level poverty experienced by his family and the people in his rural village. I learned so much about the country of Malawi and a culture I knew little about. Great for book groups!
Winter 2011 Reading Group List
Description
Now a Netflix film starring and directed by Chiwetel Ejiofor, this is a gripping memoir of survival and perseverance about the heroic young inventor who brought electricity to his Malawian village.
When a terrible drought struck William Kamkwamba's tiny village in Malawi, his family lost all of the season's crops, leaving them with nothing to eat and nothing to sell. William began to explore science books in his village library, looking for a solution. There, he came up with the idea that would change his family's life forever: he could build a windmill. Made out of scrap metal and old bicycle parts, William's windmill brought electricity to his home and helped his family pump the water they needed to farm the land.
Retold for a younger audience, this exciting memoir shows how, even in a desperate situation, one boy's brilliant idea can light up the world. Complete with photographs, illustrations, and an epilogue that will bring readers up to date on William's story, this is the perfect edition to read and share with the whole family.
Praise for The Boy Who Harnessed the Wind: Young Readers Edition
"[An] inspiring story of curiosity and ingenuity." — Publishers Weekly
"This book will appeal to adults eager to impart an uplifting Third World human-interest story, but it is also sure to resonate with children who will simply love the curiosity, resilience and resourcefulness of this doughty African youth." — Wall Street Journal
"A powerful, gorgeously illustrated children's picture book." — The Boston Globe
"This is a dynamic portrait of a young person whose connection to the land, concern for his community, and drive to solve problems offer an inspiring model." — School Library Journal
"Zunon illustrates handsomely, with contrasting cut-paper-collage details and broad, sere landscapes painted in visibly textured oils." — Kirkus
"This picture book in accessible free verse will draw kids who love to construct their own engineering gadgets." — Booklist
Cooperative Children's Book Center's 2013 Best-of-the-year list. — CCBC