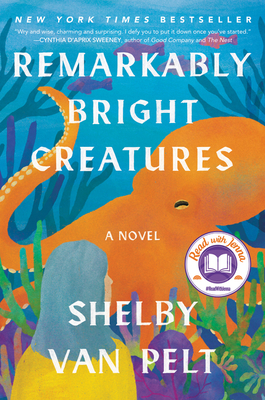 Remarkably Bright Creatures: A Read with Jenna Pick
Publication Date:
May 3rd, 2022
Usually Ships in 1 to 5 Days
Meet a hardworking widow, a lost soul, and a giant Pacific octopus (yes, an octopus) in this heartfelt story that reveals there's still plenty of living to do for those with their eyes — and hearts — open to the unexpected. A bright debut!
May 2022 Indie Next List
Description
AN INSTANT NEW YORK TIMES BESTSELLER
A Read With Jenna Today Show Book Club Pick!
NAMED A BEST BOOK OF SUMMER by: Chicago Tribune * The View * Southern Living * USA Today
"Remarkably Bright Creatures [is] an ultimately feel-good but deceptively sensitive debut. . . . Memorable and tender." — Washington Post 
For fans of A Man Called Ove, a charming, witty and compulsively readable exploration of friendship, reckoning, and hope that traces a widow's unlikely connection with a giant Pacific octopus
After Tova Sullivan's husband died, she began working the night shift at the Sowell Bay Aquarium, mopping floors and tidying up. Keeping busy has always helped her cope, which she's been doing since her eighteen-year-old son, Erik, mysteriously vanished on a boat in Puget Sound over thirty years ago.
Tova becomes acquainted with curmudgeonly Marcellus, a giant Pacific octopus living at the aquarium. Marcellus knows more than anyone can imagine but wouldn't dream of lifting one of his eight arms for his human captors—until he forms a remarkable friendship with Tova.
Ever the detective, Marcellus deduces what happened the night Tova's son disappeared. And now Marcellus must use every trick his old invertebrate body can muster to unearth the truth for her before it's too late. 
Shelby Van Pelt's debut novel is a gentle reminder that sometimes taking a hard look at the past can help uncover a future that once felt impossible.
Praise for Remarkably Bright Creatures: A Read with Jenna Pick
"Remarkably Bright Creatures [is] an ultimately feel-good but deceptively sensitive debut about what it feels like to have love taken from you, only to find it again in the most unexpected places. . . . Memorable and tender." — Washington Post 
"Infused with heartfelt humor, Van Pelt's elegant portrait of a widowed woman who finds understanding and connection with a clever octopus is refreshingly, if surprisingly, relatable. Despite the unorthodox relationship at its core, the debut novel offers a wholly original meditation on grief and the bonds that keep us afloat." — Elle
"The best books about grief find a way to illuminate the darkness of loss, and Remarkably Bright Creatures offers a masterclass." —  Marie Claire
"[B]rilliant upcoming novel about hope and reckoning." — Business Insider 
" [B]eautiful novel about friendship and family."  — GoodHousekeeping.com 
"As Van Pelt's zippy, fun-to-follow prose engages at every turn, readers will find themselves rooting for the many characters, hoping that they'll find whatever it is they seek. Each character is profoundly human, with flaws and eccentricities crafted with care. But what makes Van Pelt's novel most charming and joyful is the tender friendship between species, and the ways Tova and Marcellus make each other ever more remarkable and bright." — BookPage
"A debut novel about a woman who befriends an octopus is a charming, warmhearted read." — Kirkus Reviews
"A unique and luminous book." — Booklist (starred review)
"Remarkably Bright Creatures is the rarest of feats: a book that manages to be wry and wise, charming and surprising, and features one of the most intriguing and satisfying characters I've encountered in fiction in a very long time—Marcellus the Octopus. I don't know how Shelby Van Pelt managed to make this uncommon tale sing so beautifully, but sing it does, and I defy you to put it down once you've started." — Cynthia D'Aprix Sweeney, author of Good Company and The Nest
"Shelby Van Pelt has done the impossible. She's created a perfect story with imperfect characters, that is so heartwarming, so mysterious, and so completely absorbing, you won't be able to put it down because when you're not reading this book you'll be hugging it."
— Jamie Ford, author of The Many Daughters of Afong Moy and The Hotel on the Corner of Bitter and Sweet
"Truly original and touching, Remarkably Bright Creatures is a story of family, community, and optimism in spite of darkness. Prepare to fall in love with a most exceptional octopus." — Helen Hoang, author of The Heart Principle
"Remarkably Bright Creatures is a beautiful examination of how loneliness can be transformed, cracked open, with the slightest touch from another living thing. Shelby Van Pelt makes good on this wild conceit, somehow making me love a misanthropic octopus, but her writing is so finely tuned that it's a natural element of a larger story about family, about loss, and the electricity of something found." — Kevin Wilson, author of Nothing to See Here