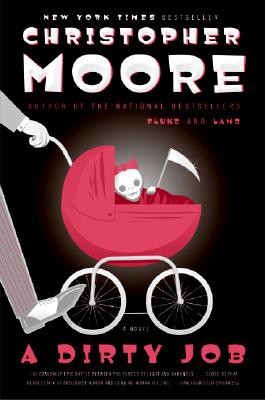 A Dirty Job: A Novel
Publication Date:
March 27th, 2007
Publisher:
William Morrow Paperbacks
Usually Ships in 1 to 5 Days
Description
Charlie Asher is a pretty normal guy with a normal life, married to a bright and pretty woman who actually loves him for his normalcy. They're even about to have their first child. Yes, Charlie's doing okay—until people start dropping dead around him, and everywhere he goes a dark presence whispers to him from under the streets. Charlie Asher, it seems, has been recruited for a new position: as Death.
It's a dirty job. But, hey! Somebody's gotta do it.
About the Author
Christopher Moore is the author of seventeen previous novels, including Shakespeare for Squirrels, Noir, Secondhand Souls, Sacré Bleu, Fool, and Lamb. He lives in San Francisco, California.
Praise for A Dirty Job: A Novel
"Makes you laugh in the face of death." — Rocky Mountain News
"[Moore] is superb in this mock epic of death and love. Smart people will be enormously amused." — Library Journal (starred review)
"My top pick for laugh-out-loud reading . . . dark, dark, dark and funny, funny, funny." — Sarasota Herald-Tribune
"Hilarious yet poignant." — Hartford Courant
"Outlandishly funny." — Syracuse Post-Standard
"One of the antic Moore's funniest capers yet." — Kirkus Reviews
"Dizzyingly inventive and hypnotically engaging, A DIRTY JOB is . . . like no other book I've ever read." — Gregory Maguire, author of Wicked and Son of a Witch
"[A] wonderful, whacked-out yarn." — Publishers Weekly
"Moore's signature tossed-off humor is in full effect, and it's easy to care about his warm, lumpy, honest characters." — Entertainment Weekly
"To keep a straight face while reading this book, one would have to be dead already ... Grade: A." — Rocky Mountain News
"[Moore's] most speculative, tripped-out and deeply felt book to date." — The Oregonian (Portland)
"A bravura mix of the familiar and the hilariously original." — Denver Post
"[A DIRTY JOB] will keep a smile on your face long after you put it down." — Cleveland Plain Dealer
"Outstanding . . . The dialogue follows a zany illogic worthy of the Marx brothers." — Washington Post Book World
"Death, of course, is not usually a funny subject, but in the hands of Christopher Moore it sure is." — Hartford Courant